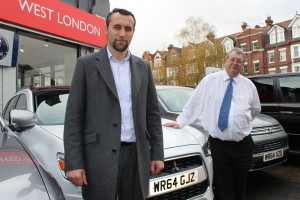 A NEW Mitsubishi dealership has opened in London.
West London Mitsubishi, a family-run business with Ardi Bala as the dealer principal and his brother Artan as the service manager, employs 15 people, with more now set to be recruited.
It started life as Putney Service Centre in 2005 before moving to Castelnau in Barnes in 2011 as the West Motor Company.

Mitsubishi is the third brand it has signed with since 2012.
Ardi said: 'It's been a successful business for us and we're really looking forward to being a Mitsubishi dealership. It's very exciting and hopefully we will have a good future with them.
'The company's been doing really well. We bought a freehold property in Castelnau, which is very good news for us, so hopefully we'll be here for a long time.'
The dealership joins Mitsubishi at an exciting time for the brand. The latest figures from the Society of Motor Manufacturers and Traders show that Mitsubishi's passenger car sales were up 74 per cent year-to-date, while in November the company's passenger car sales were up by 251 per cent year-on-year against a market that was up by eight per cent.

Pictured above are Ardi Bala, left, and sales manager Colin Arksey outside West London Mitsubishi.
MORE: Most car dealers 'not worried by new FCA regulations'