All sorts of challenges have been lobbed at car dealers since the pandemic struck, not least trying to fathom out government decrees about trading.
Car Dealer Magazine was at the fact-finding front as the lockdown started, providing clarity from unimpeachable sources about selling online and delivering, and it has continued to be so, giving reassurance in uncertain times.
Now, as many people are searching for information as to whether car dealers are open for business, we thought we'd do our bit and tell anyone visiting our site: Yes, they are!

As restrictions ease across the UK, we look at the situation as it stands now and what it means for car dealers and their customers.
Are car dealerships open now?
Yes, UK residents have been able to visit showrooms again since various dates in June. In England, the doors reopened on June 1, in Northern Ireland on June 8, in Wales on June 22, and in Scotland on June 29.
But there's a localised lockdown in Leicester, so have dealerships had to shut again there?

No. Although health secretary Matt Hancock said non-essential shops would have to close in Leicester at the end of June, car dealerships were in fact excluded from that ban, so they've been able to continue trading. It's likely to be the same for dealerships elsewhere if other local lockdowns are brought in.
What has business been like for car dealers generally?
In a word, busy! Although sales were made during the lockdown, there was still a lot of demand building up.
Spencer Gray, director of Norwich-based Spencers Car Sales, told Car Dealer that since being allowed to reopen, low fuel prices and concerns about using public transport had resulted in 'buoyant' sales and 'a positive surge', especially in the lower price end of the market.
Imperial Cars has also enjoyed booming business, with the car supermarket chain finding its services such as Click, Call, Collect/Deliver also giving customers peace of mind.
Is it safe to visit dealerships, though?
Absolutely! Dealerships are probably among the safest retail places you can go to. They've got large, open spaces, and because cars are big-ticket items, it's not as if showrooms have ever had crowds of people inside them at the same time.
In fact, many showrooms have switched to an appointments system to keep customer contact down to a bare minimum, so it's worth checking rather than just popping by. One-way systems have been introduced at some places too – Snows Motor Group is one example.
What other safety measures have been brought in?
Dealerships have hit the ground running when it comes to anti-coronavirus precautions.
'We've been following all the protocols, what we need to do, as the government has issued guidelines. That's been really positive, giving the customers the reassurance they need so they know they can buy with confidence in a safe environment, and it's all been paying off,' said Gray.
The dealership is among many – independents and franchised – that have posted videos online to demonstrate the measures taken, such as bringing in handwipes and sanitisers plus perspex screens, disinfecting the office, vehicles and keys, and putting up signs to remind people about social distancing.
'That's helped bring the consumers back into our premises, and has really worked well for us,' said Gray.
It's also worth remembering that dealerships will have had to meet the government's Covid-19 secure guidelines to protect customers and workers.
They will have completed a full health and safety written assessment to ensure their business is safe – and they face random spot checks in the future to ensure they're continuing to comply.
Look for a certificate like the one here, which confirms the business has complied with the government's guidance on managing the risk of Covid-19.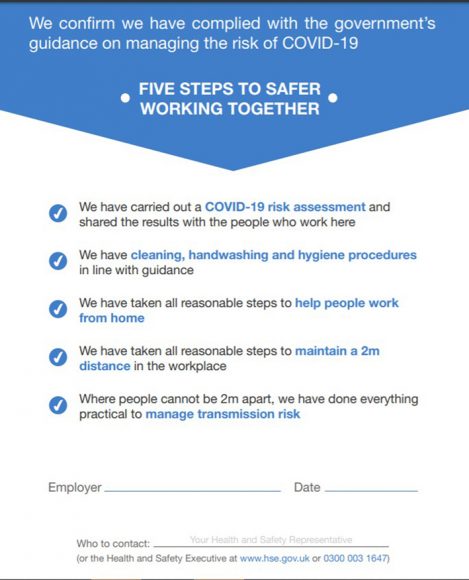 How about test drives?
The government eventually agreed to allow unaccompanied test drives on trade plates. That has now changed, though, and sales staff can sit in on the drives. Legal experts Lawgistics recommend that face masks be worn, but not face shields in case the airbag goes off.
Without a doubt, car dealers are busy making up for lost time and are geared up for doing business in a different way that is safe for consumers.
Main image from the Spencers Car Sales video
More help and advice articles for car dealers can be found here