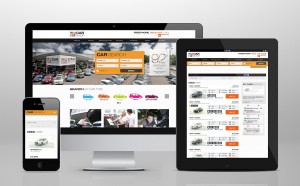 CARSHOP has unveiled its sleek new website this week to ensure the ultimate digital customer experience gets delivered online.
The updated website is packed with new features and functionality. Showcasing an ultra-modern design, the website adjusts to the device it is being used – be it a desktop, tablet or smartphone.
By utilising touch gesture technology, CarShop says it has managed to make car-buying easier for people browsing on the move.

One of the key features of this website is the new-style car search, allowing multiple makes and models to be selected and searched at the same time, and then easily compared. This is on top of an improved advanced search, allowing multiple body types and colours to be factored into the individual's search criteria.
Other impressive features include a new simple online reservation flow and an enhanced compare feature. Users now have the ability to shortlist cars and receive email updates based on previously searched criteria.
Leo Nelson, CarShop's marketing director, said: 'We're incredibly proud of the new website, and its ability to deliver the ultimate online experience.
'Earlier this year we commissioned a piece of consumer research, the results of which have helped inform the design of all new carshop.co.uk. Results showed that 90 per cent of customers use online channels during the car-buying research process.

'What we have created is an environment where customers can easily access all of information they need to aid their buying decisions; in doing so we're confident we're able to continue to be one of the leaders in the automotive digital marketplace.'