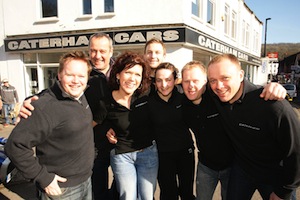 CATERHAM Cars has closed the doors at its hometown showroom in Surrey for the final time.
The company has moved to a new, temporary facility in Three Bridges, just 15 miles away.
The move comes 54 years after the firm was established by Graham Nearn in 1959 and 40 years after it started building the legendary two-seater sportscar, the Caterham Seven.

To mark the occasion, a farewell event incorporating an auto-jumble of parts and accessories as well as lunch for Seven Owners Club members, well-wishers, customers, residents and staff alike was held on Sunday, February 17.
Hundreds of Seven owners turned out to celebrate, amassing for a send-off drive which concluded at the showroom on Station Avenue, Caterham.
The sad farewell comes after the site on which the showroom is located was sold by the previous land owners to developer, Churchills, in late December 2012. The Government's Planning Inspectorate granted planning permission for a retirement home to be built on site.
Before it relocates to a much larger facility not far from Caterham, the new and used showroom has moved into the temporary facility atUnit 11, Denvale Trade Park, West Sussex.

Graham Macdonald, chief executive of Caterham Cars, said: 'It is a very sad and emotional day for everybody involved with Caterham Cars. However, it is an exciting time for Caterham as a brand as we expand into new and uncharted territories.
'The town of Caterham will forever be linked with our brand and I hope residents will still feel that sense of pride when they watch our F1 team on TV or catch a glimpse of a Seven on the road.
'I would like to take this opportunity to thank the town of Caterham and its residents for their support over the years.'
Caterham Cars will be expanding its range of Seven models during 2013 and, last November, Caterham announced a joint venture with Renault to develop and build its first brand new road model for 18 years.