A NEW Fiat and Abarth showroom in Sunderland, Tyne and Wear, has been officially launched in true Italian style.
Car enthusiasts headed to the new Richard Hardie centre to test-drive the Reborn Fiat 124 Spider and the Amore for less Fiat Tipo, as well as other Fiat and Abarth cars – and Peugeot models, sold on the same site.
Branch manager Glenn Bowater, who has more than 20 years' experience in the motor industry and was the previous manager at Richard Hardie's showroom in Silverlink, Newcastle upon Tyne, was thrilled with the turnout over the two days.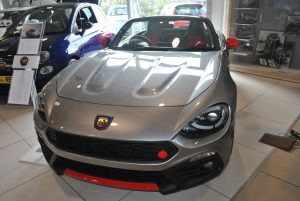 He said: 'We couldn't have asked for a better weekend. The sun was shining and people were delighted to be given the opportunity to test-drive these magnificent models and take a look around the new centre.
'The feedback we've received about the cars and the centre has been exceptional. We couldn't be happier.'
In between taking the new arrivals out for a spin, customers at the dealership, in Trafford Road, were kept entertained by the Richard Hardie Fiat 124 Spider selfie competition, for the chance to win £250 of shopping vouchers.
Mandy Mulholland, from Newcastle, came out with the top prize for her effort, which rounded off a fantastic day for her.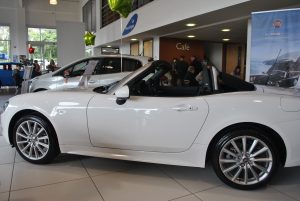 In keeping with the Italian theme, car enthusiasts were also treated to free pizza from Sunderland's own Pizza Di Romeo.
The decision to invest in the new Fiat and Abarth centre is an exciting one for everyone involved at Richard Hardie.
Bowater added: 'We are entering a new era here at Richard Hardie Sunderland which is very exciting and we wanted to put on a fantastic launch event to show people exactly what they can expect from us.
'The focus for our centre is based on customers' high expectations for product, service and the brands we are offering and I believe during this event, we have highlighted just that.'
The picture on our home page shows, from the left, Elliot Smith, senior sales executive; Glenn Bowater, branch manager; and Dominic Phillips, Abarth specialist, ready to enjoy some pizza!
MORE: Six weeks to go, so get nominating in the Used Car Awards!
MORE: Dealership duo retire after a century of service between them
MORE: North Yorkshire-based Leisure World joins MG dealer network
On SuperUnleaded.com: Now You Can Spend The Night In A Taxi In New York