A HIGH-TECH aftersales facility is putting Formula 1 know-how into practice at a state-of-the-art McLaren showroom on the edge of the New Forest.
The new £278,000 centre, operated by the leading south of England motor retailer Harwoods Group, boasts space-age technology passed down from F1 race tracks around the world.
Servicing models made by the British manufacturer, the site's talented technicians will use motorsport-honed expertise to look after some of the most advanced and exciting sports cars on the road.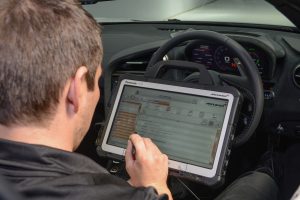 The workshop is near the village of Bramshaw, roughly midway between Southampton and Salisbury, and will be able to cater for McLaren owners living anywhere between Devon and Kent in the east.
Every car in the range – including the new 720S Spider and 600LT Spider – can be handled, and the facility employs three fully qualified McLaren technicians who have one-on-one contact with owners while their vehicles are being worked on.
Craig Hartley, aftersales manager at the workshop, said: 'We are exceptionally proud of our stunning new aftersales department.
'Equipped with the very latest technology and staffed by highly trained technicians, our many customers in the Hampshire area and beyond can be assured that their very special cars will be in the safest of hands.'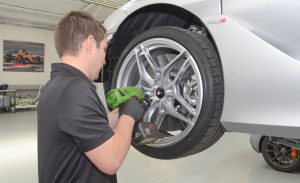 Those wanting to wait while their car is being attended to can take advantage of a comfortable area equipped with office facilities and complimentary tea and coffee.
Alternatively, there is a free collection and delivery service that operates across the whole of the south of England and sees customers' cars being picked up and returned by the expert driver of a specially covered truck.
There are currently eight team members at McLaren New Forest, which helps develop Harwoods' reach in the luxury car segment. The firm also represents Aston Martin, Audi, Bentley, Jaguar and Land Rover. A new McLaren showroom will soon sit alongside the servicing centre, with finishing touches currently being put to the dealership.
Pictured at top are technicians Jonathan Fosket, left, and Kevin Durrant
MORE: McLaren Automotive confirms New Forest as latest UK retail location
MORE: First Drive – McLaren 600LT Spider