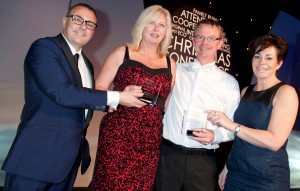 A CAR dealership with outlets in South Wales and the south west celebrated its achievements during the past 12 months at its Christmas Conference.
The event was held by Wessex Garages at the SWALEC Stadium in Cardiff and included an awards ceremony as well as entertainment from Only Men Aloud and talks by guest speakers.
Keith Brock, managing director of Wessex Garages, said: 'Our Christmas Conference was a huge success and gave us a chance to celebrate our achievements throughout the past year.

'We were delighted to have former top rally car driver Penny Mallory as our compère for the evening and Jamie Dixon, group sales director at GForces, as our guest speaker.
'During the event we also announced the winners of our highly-anticipated awards, which included the Most Improved Dealership, which went to Mark Hayward and his team at Feeder Road in Bristol, and Paul Edwards and his team at Newport won Best Sales Performance.
'The other categories were Best Aftersales Performance, which went to Richard Craythorne and his team at Penarth Road in Cardiff, and the Customer Care Award was scooped by Gareth Howells and his team at Hadfield Road in Cardiff.'
Terry Thurgood and his team at Pennywell Road in Bristol won the award for Best Fundraising Dealership and the Director's Recognition Award went to the Sales Department and Fleet Department.

There was also an Outstanding Achievement award for Mark Ingleby in recognition of his 28 years of service to the company.
Keith added: 'During his talk, Jamie gave us a thought-provoking insight into the changing digital landscape, the importance of digital media and how we can continue to apply this to our dealerships.
'Winners of the Last Choir Standing, Only Men Aloud, provided the entertainment for the evening and gave a thoroughly-enjoyable performance.'
Wessex Garages is a privately-owned company that has outlets in Bristol, Cardiff, Gloucester and Newport.
Above: Managing director of Wessex Garages, Keith Brock (left), and Penny Mallory (right) present the Director's Recognition Awards to sales admin manager Gail Hassell and group fleet manager Andy Provis
Below (from top):
Digital sales executive at Wessex Garages on Pennywell Road, Adam Davis, corporate and events manager for Penny Brohn Cancer Care, Amy Cason, corporate and community fundraiser for Penny Brohn Cancer Care, Emma Smith, and the general manager at Wessex Garages on Pennywell Road, Terry Thurgood, receive the Best Fundraising Dealership from Penny Mallory
Keith and Penny present the Customer Care Award to the general manager at Wessex Garages on Hadfield Road, Gareth Howells
Keith and Penny present the Best Aftersales Performance Award to service manager Kelvin Marston (Wessex Garages on Penarth Road) and parts manager Dean Hill
Paul Edwards, the general manager at Wessex Garages in Newport, collects the Best Sales Performance Award from Keith and Penny
Mark Hayward, the general manager at Wessex Garages on Feeder Road, receives the Most Improved Dealership Award from Keith and Penny