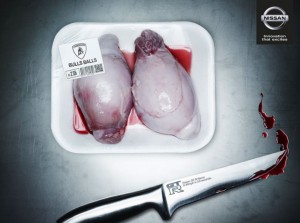 A PHOTOGRAPHER has produced a trio of fake adverts to demonstrate what he sees as the superiority of the Nissan GT-R over its more expensive European rivals.
The 2014 version of the striking supercar offers smoother ride comfort, more refinement and benchmark fit and finish, according to the Japanese manufacturer. And it delivers 'breath-taking' levels of performance and road-holding.
Nissan says its 'multi-dimensional performance' means the driver can enjoy the full depth of the GT-R's capabilities, 'whether navigating corners of a winding mountain road, cruising on the highway or even in an urban environment'.

Of course, the company is bound to be full of praise for its own product but they clearly have a fan in photographer Tim Kent.
Kent has created three images showing GT-R as a butcher's knife and its European rivals as chunks of meat. Ferrari, Porsche and Lamborghini are the trio heading for the chop. Of course these images will never be seen in an official capacity – there would simply be too much at steak…