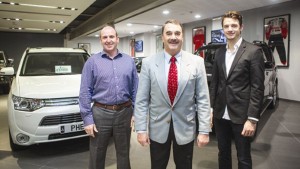 Formula One legend Nigel Mansell has revealed why he decided to take on a Mitsubishi dealer franchise in an exclusive interview with Car Dealer Magazine.
The former F1 world champion and his son Leo have recently opened a Mitsubishi dealership on Jersey and Car Dealer was given a grand tour by the father and son duo.
In a candid interview, Mansell tells us:

That other dealers on Jersey have been giving them a hard time
That his greatest achievement in life is simply staying alive
How he thinks current F1 drivers have got it easy
How he sold a car to a man named Ronald McDonald
Why he has a million dollar uncashed casino chip on display and a dagger made of dinosaur bone
And what he REALLY thinks of Formula 1 in 2014
The exclusive interview features in the current issue of Car Dealer Magazine.
To read it in full you can subscribe to get a copy via Car Dealer Club for £39.99 a year or alternatively download the latest issue for FREE on your iPad here.
MORE: Nigel Mansell opens Mitsubishi dealership
MORE: What's in Issue 81 of Car Dealer Magazine

MORE: Our Mazda 6 long termer gets vandalised and decides to write a letter