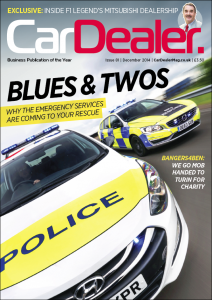 THE latest issue of Car Dealer Magazine is ready to be downloaded to your iPad – FREE of charge.
Issue 81 of the Best Business Publication of the Year is packed with not-to-be-missed features, plus the very latest news and views from the automotive industry.
It's our 2014 Bangers4BEN issue, so find out what happened when dozens of intrepid drivers headed to Turin in a fleet of cars all costing £750 or less – and managed to blag their way onto the roof of the old Fiat factory made famous by the film The Italian Job.

As well as enjoying an action-packed trip, more than £35,000 was raised for automotive charity BEN.
Also in issue 81:
Car dealer writer Rebecca Chaplin travels to Jersey to meet Formula One legend Nigel Mansell, who has just opened a Mitsubishi dealership on the island.
We explore the world of blue-light sales, and find out which manufacturers do business with our vital emergency services.
And we review the Skoda Fabia, Audi TT and A6 plus Ford's fourth-generation Mondeo.
As usual, Issue 81 also features thought-provoking contributions from our regular columnists and there's another helping of invaluable legal advice from Lawgistics.
The iPad app is completely FREE to download and subscribe to and features additional video content.

MORE: Bristol Audi driver serves up a treat for the new TT
MORE: Hyundai Genesis trial will be rolling out in 2015