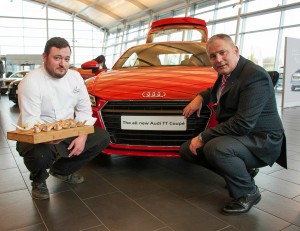 SATURDAY saw the arrival of the third generation Audi TT at Bristol Audi and the dealership celebrated by adding some flavour to their showroom.
Acclaimed Roux Scholarship winner and head chef of local restaurant Hattusa, Paul O'Neill, was invited to cook and serve stunning canapés throughout the day, wowing guests and further reinforcing the link between the Audi Brand and fine dining.
Bristol Audi prides itself on excellent products in its cars and excellence in customer service, similar values to those expected by guests at a fine dining restaurant. Top chefs who have also worked with the Audi brand have included James Martin, Marco Pierre White and Heston Blumenthal.

Steve Smith, head of business at Bristol Audi, is a great supporter and proponent the Bristol chef scene. This is demonstrated in his sponsorship of The Chefs' Forum since its inception in 2010 which brings top local chefs together and supports the next generation of chefs working with City of Bristol College and Weston College. In celebrating this partnership, the Bristol Audi dealership has played host to a plethora of top-end food led events working with The Chefs' Forum to showcase and support top local chefs and restaurants.
Smith said: 'Every Head of Business at Audi is taken to a Michelin-starred restaurant on joining the brand to experience the level of food and service which should be mirrored at their dealership. I was delighted that Paul O'Neill came to showcase his menu today and his canapés went down a storm with our customers.'
'We would say that with all of the top Chefs we share artistry, a passion and drive to be the best. Our discerning customers have high expectations of both Car & Cuisine! Young people and training & development are also shared goals between The Chefs Forum and Bristol Audi. Natural enthusiasm in a chosen profession is priceless, whether in a professional kitchen or dealership.'
Paul's menu included Tandoori Monkfish, Cured Pork Tenderloin Sausage Roll, Beetroot & Goats Cheese Mille Feuille, Orange & Honey Madelines, Key Lime Pie and Salted Caramel 'Hot Chocolate'.

Audi customers, existing and new flocked to the flagship dealership for the opportunity to test drive the new model that includes technologies like the Audi Virtual Cockpit and a new quattro system developed specifically for the brand new TT.
There are great plans on the horizon for future foodie events at Bristol Audi to further reinforce the relationship between the Audi brand, top chefs and fine dining.