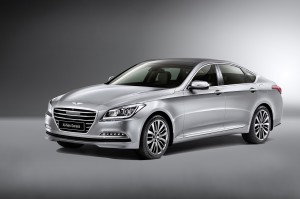 HYUNDAI boss Tony Whitehorn will be happy if the firm manages to sell just 25 luxury Genesis models next year as he trials the flagship car in the UK.
Six specialist dealers will be set up to sell the 5 Series rival which costs more than £40,000 and is powered by a 3.7-litre V6 petrol engine.
He said: 'We're not looking to sell loads of them as it's more about showing people what we can do. It's a showcase of the technology that will then cascade further down through the range.'

Key locations in London, Manchester and Edinburgh will be first while pop-up stores at Bluewater will also with Korean and American buyers in mind.
'If we sell 25 I'll be happy,' added Whitehorn. 'I about volume. Most people think of us as a price proposition and this is about changing that.'
MORE: Hyundai dealers need to get ready for a year that will see a LOT of new product
MORE: New Hyundai i20 prices and specification revealed

MORE: Our new finance application form is bang up to date, say iVendi