AN event was staged this week on the charming island of Capri to celebrate the Fiat 500's 59th anniversary.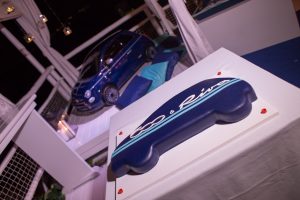 Launched in Turin on July 4, 1957, the little car became a cult model of which nearly four million were sold.
Fifty years later, in 2007, the new 500 was born. It was a success marketed in more than one hundred countries worldwide, with nearly two million on the road.

Since 2015, the 500 design has been refreshed and packed with even more technology, engine versions and customisation ideas.
This year, all eyes are on 500 Riva, which invaded the most famous sites of Capri. The newest addition is an exclusive limited number special, which was designed in partnership with Riva, the world-famous nautical brand.
Two legends in the world of cars and of boats met to create a 500 that blends with the timeless allure of Riva. The bodywork sports Sera Blue paintwork and interior inlays, made of real mahogany with maple, which were created using the same woods used on Riva yachts.
For this car, there could be no better backdrop to celebrate its anniversary than the Faraglioni stacks and Piazzetta Umberto on the island of Capri.

The new 500 Riva will be available in the UK from the end of August with the 1.2 69hp, TwinAir 85hp and TwinAir 105hp engine options.
MORE: A gym, spa and first-class lounge: Poole launches state-of-the-art Audi 'terminal' in the UK
MORE: Cambria announces acquisition of JLR franchise in North London
MORE: Dealers have a key role to play, says Autoguard Warranties CEO 
On SuperUnleaded.com: Man Avoids Head-on Collision, Rolls His Car Instead