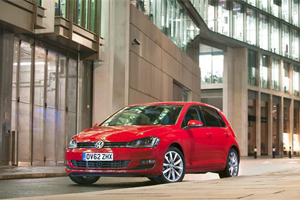 GERMAN brands BMW and Volkswagen Group have dominated car buyers' wish lists, CAP has revealed.
While the Ford Fiesta still topped CAP's 'Total Cost of Motoring' consumer research charts and remains Britain's 'most wanted' car in June, BMW and Volkswagen made the greatest gains.
In June eight out of 10 car running cost 'look-ups' by motorists at cap.co.uk were for Volkswagen Group and BMW cars, with Ford taking the only two remaining places.

The top ten was almost completely divided between Volkswagen, with its group brands Audi and Seat and BMW with each taking four of the top 10 places. The Ford Fiesta remained at number one, with Ford Focus also maintaining its long-held place in the chart.
Also notable in the June motoring cost research chart was the ongoing interest among motorists in diesel cars, which still account for the majority of consumer investigations into long-term costs.
CAP retail & consumer expert, Philip Nothard, said: 'Our chart shows is that if it's German-built or owned, with a diesel engine under the bonnet, people want it.
'The chart is a good measure of consumer aspirations because when people are looking more deeply into the costs of owning a car over time it means they're thinking more seriously than if they were just browsing car adverts.

'In this case they are looking to see what future depreciation to expect, how much they'll pay for servicing and maintenance, fuel consumption for their own expected mileage and other cost factors.
'Motorists want to take more control of their financial destiny than ever before and our chart for June reinforces the fact that German cars, diesels and Fords are all trusted by the consumer to offer benefits of economy.'
Every month the independent car cost experts at CAP measure consumer interest in the long-range financial impact of cars researched by visitors to its specialist 'Total Cost of Motoring' tool at cap.co.uk.
The Top 10 for June was as follows:
1. Ford Fiesta petrol hatchback
2. BMW 3 Series diesel saloon
3. BMW 5 Series diesel saloon
4. BMW 3 Series diesel Touring
5. Ford Focus petrol hatchback
6. Seat Leon diesel hatchback
7. Volkswagen Golf diesel hatchback
8. Volkswagen Golf petrol hatchback
9. BMW 3 Series petrol saloon
10. Audi A3 diesel Sportback