James Fossdyke delivers his verdict on a cheap, practical hatchback that's refreshingly lacking in airs and graces
What is it?
Fiat's latest rival to the Hyundai i30 has revitalised a name from the 1980s and attached it to a thoroughly modern, if relatively simple, family hatchback. With a value price tag and a reasonably stylish exterior, Fiat is pitching the new Tipo at the budget and fleet sectors, promising strong residual values and plenty of kit. The newcomer is also aiming to become the flagship of the brand's 'rational' offering, which sits alongside its 'emotional' vehicles such as the 500 and the 124 Spider.
What's under the bonnet?
The Tipo engine range is a fairly simple affair, comprising two diesel engines – a 1.3-litre unit and a 1.6 – and three petrols.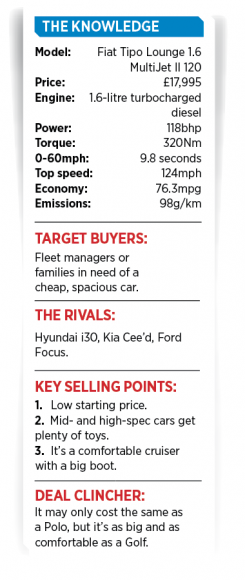 Power outputs range from 94 to 118bhp for both fuel types, although plumping for petrol gives you the option of a 109bhp 1.6-litre engine, as well as the 94 and 118bhp 1.4s. Fiat expects the majority to opt for the larger diesel engine, though, which offers 98g/km CO2 emissions and 76.3g/km economy despite its meaty 118bhp output and sub-10-second 0-60mph time.

What's the spec like?
Basic versions start from a rather attractive £12,995, and that includes air conditioning, Bluetooth phone connectivity and a space-saver spare as standard. Opting for the Easy Plus trim level, though, will upgrade the 15-inch steel wheels to 16-inch alloys, as well as offering a five-inch touchscreen infotainment system, rear parking sensors and cruise control. It's a lot of extra kit for a mere £1,000 price hike. A further £1,000 (yes, pretty much every upgrade costs £1,000) buys you the range-topping Lounge variant, which boasts larger 17-inch alloys, chrome touches on the exterior and sat nav.
What's it like to drive?
Fiat has very clearly set the Tipo up to be a comfortable cruiser, and the Italian brand has pretty much nailed it. The Tipo rides well and it feels really soft on long motorway runs. The diesel engine fitted to our test car was a little grumbly at idle, but it quietened down in the cruise, and the seats are comfortable enough.
What do the press think?
Autocar wrote that 'the Tipo doesn't offer a particularly engaging driving experience and the inconsistent interior quality will be a turn-off for some, but if you're after a practical, affordable and economical hatch, the Tipo has a lot going for it.'
What do we think?
Anyone in the market for a cheap, practical hatchback really can't go far wrong with the Tipo, but there's more to its charm than just that. The Fiat is a rare breed – an honest little family car that doesn't pretend to be any more or less sophisticated than it is. There are no airs or graces, and that makes it a very likeable car.