Jack Evans became our Ioniq man, testing a world first – a car with three electric powertrains. What did he think?
What is it?
The Ioniq offers buyers something a little different. It comes in three powertrains: hybrid, plug-in hybrid and full electric. For now, the UK gets just the hybrid and the electric – although the plug-in version will be with us in 2017. With three cars available, the Ioniq should offer all things to all people. It also brings to the table excellent economy and emission figures.
What's under the bonnet?
A four-cylinder petrol engine sits inside the hybrid that we tested, in conjunction with a 32kW electric motor. Together, they produce 139bhp and 147Nm torque.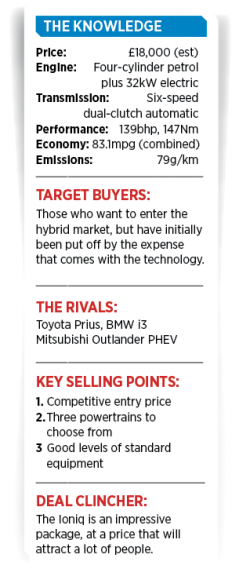 Where the Ioniq differs from other electic cars is in its use of a six-speed dual-clutch automatic gearbox, which gives it a feeling of actual gears.

What's the spec like?
Pretty decent. The cabin is well finished with soft-touch plastics, but some materials do spoil the effect. There's plenty of storage room, and the door bins are large enough for a bottle of water. A large eight-inch touchscreen sits in the centre of the cabin, and integrates satellite navigation systems and media, too. There's also Apple CarPlay and Android Auto, which means that connecting a smartphone is quick and easy. There's a good amount of legroom in the back, and the rear seats can be split 60/40 to increase the Ioniq's not overly generous boot space.
What's it like to drive?
Hybrids very rarely stir the soul of the avid driver. However, the Ioniq does well to inspire a sporty feeling in the person behind the wheel, mainly thanks to that previously- mentioned gearbox. It really does make the car feel more like a traditional motor, rather than a hybrid. You can put the car in sport mode which allows you to hang on to the gears a little longer, but in reality most drivers will leave it in 'drive'. However, the Ioniq's steering is lacking in any sort of feel. It does this despite being quite heavy, but doesn't translate any of the front wheel's activities back to the driver. It leaves you feeling quite disconnected from the whole experience.
What do the press think?
Autocar said: 'With the real-world pollution of diesel cars likely to be under scrutiny for the next few years, the Ioniq looks like it will offer a price-competitive alternative to derv.'
What do we think?
For some time, there have been very few competitors strong enough to take on the all-conquering Toyota Prius. However, the Ioniq seems just the car to do that now. It's cheaper and in our eyes better looking than the Prius, too. The three powertrains offer something for everyone.