THE Government today announced the criteria for grants for plug-in cars was being revised.
The popularity of ultra-low emission vehicles (ULEVs) continues to rise sharply, with more than 25,000 plug-in grant claims submitted since the scheme began in 2010.
Even the traditionally-quiet January sales market saw nearly 2,000 claims and total ULEV sales in 2014 were about four times the level of the previous year. The UK is now ahead of France and Germany in ULEV take-up, placing us at the forefront of green car technology.

From April 2015, eligible ULEVs must meet criteria in one of the following categories depending on emission levels and zero-emission-capable mileage:
Category 1: CO2 emissions of less than 50g/km and a zero emission range of at least 70 miles
Category 2: CO2 emissions of less than 50g/km and a zero emission range between 10 and 69 miles
Category 3: CO2 emissions of 50-75g/km and a zero emission range of at least 20 miles.
Vehicles in all categories will continue to be eligible for the full grant of up to £5,000, until either 50,000 grants are issued or 2017, whichever is first.
A Department of Transport spokesman said: 'The new categories will better reflect the range of vehicles on the market and make them accessible to the widest range of people.'
Transport minister Baroness Kramer said: 'More and more people are deciding a ULEV is the right choice for them. They are great to drive, easily chargeable at home or on the street, and cheap to use with running costs from just 2p mile. This thriving industry will support jobs and build a stronger economy.'

Grant availability will continue to be promoted as part of the Go Ultra Low campaign which is jointly funded by government and industry.
The change was heralded today by Ken Ramirez, managing director of Renault UK. He said: 'We welcome the changes as the move to a banding system for grant funding recognises the real-world practicality and zero tailpipe emission advantages that electric vehicles have over other types of alternative fuel vehicles.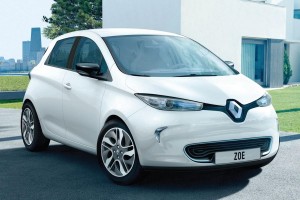 'The Renault ZOE hatchback was already the most affordable electric vehicle on the market. The move to the 35 per cent funding for cars in the lowest emitting band will make ZOE even more affordable and encourage yet more motorists to move to zero tailpipe emission vehicles.'
He said the changes from April 1 mean that a Renault ZOE will reduce in price by £552 on the Expression trim level and by £152 on the Dynamique trim levels because of a move from a 25 per cent of vehicle value cap on the grant to a 35 per cent cap for vehicles in the new Category 1.
MORE: 2.5m drivers have lied to get lower insurance premiums