IT'S the best night out in the industry and winning a Used Car Award delivers genuine benefits to your business!
That's not us saying so but Scott Sibley, director of Redgate Lodge in Newcastle upon Tyne. The dealership picked up the gong for Best Use of Video at the 2018 event and will be hoping for more success this year.
We caught up with Scott recently and he told us: 'We had a fantastic time at The Brewery last year and it's amazing to win – it's incredible!'

The company managed to gain some useful newspaper coverage after its triumph and has been shouting about its success online.
Flags on the dealership's forecourt also highlight the amazing achievement.
Asked if the win had done anything for the business, Scott replied: 'Yes, I would think so. I think it's really important to win an award. We really make a big thing of it if we're fortunate enough to win – it's definitely good for business.'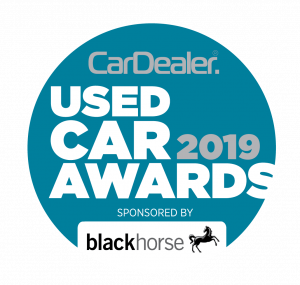 As well as the video accolade in 2018, Scott's fellow director and wife, Jane, was highly commended as a Dealers' Dealer of the Year – and the team are hoping for success in other categories this year as well.

Scott told us: 'We're going to enter the Over 100 Cars category, and we're going to try for the Best Service and Repair Outlet too – we operate a Bosch service centre. We're working on our entries now.'
Full spectrum
Apart from the business benefits a Used Car Award delivers, the ceremony itself is a fantastic evening. 'It's a great night,' said Scott. 'We come down on the train, we stay over and it's a good event. We really enjoy it.'
If you're thinking of entering for the Used Car Awards, there's no time to lose! The closing date is October 14.
As you probably know by now, the event shines a spotlight on the best, brightest, smartest and downright nicest across the full spectrum of the trade.
And winning a Car Dealer Used Car Award is BIG.
Dealers and sponsors are proud to let the world know about their successes, because the awards show how highly regarded they are within the industry. The event, sponsored by Black Horse, honours all parts of this vital backbone of the motor trade, too.
From the smaller independents to the 
larger groups, it's for every dealer in the used 
car business.
This year, the awards are being held on Monday, November 25, with the fantastic theme of 'The Goodnight Cabaret'.
We'll be handing out gongs in a variety of categories, and if you reach the final shortlist you'll be invited to our glittering ceremony, hosted by TV's Mr Wheeler Dealer, aka Mike Brewer, at The Brewery, London.
You'll be able to enjoy a terrific meal, free drinks and – if you fancy it – lots of dancing!
It's always a grand night out, so don't delay, enter today! Click here.
In our picture, Scott, second left, and Jane Sibley, of Redgate Lodge, picked up the Best Use of Video trophy last year from host Mike Brewer, right, and Oliver Parsons of category sponsor CitNOW.
MORE: Who won what at the 2018 Used Car Awards?