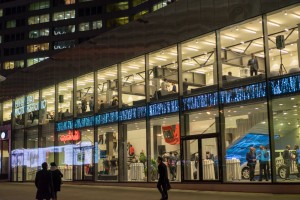 HYUNDAI has officially opened its Hyundai Motorstudio Moscow, the latest of its overseas brand spaces and also Hyundai's first non-sales showroom in Russian.
The new facility, located on the prestigious Noviy Arbat street in Russia's capital city, has been developed as part of the company's innovative global Hyundai Motorstudio project.
Executive vice president of Hyundai WonHong Cho said at the opening: 'Hyundai Motorstudio Moscow is an important initiative for the company as it helps our customers understand what Hyundai Motor stands for, what inspires us and how our cars play an important role in our day-to-day lives. We will create a unique experience that will realize the company's Modern Premium brand direction.'

The Hyundai Motorstudio Moscow space is designed to provide an experience like no other for its visitors. It has five zones: Event Space, Car Gallery, Brand Collection, Library and Café.
The key design element of the interior space is the gallery, which features a heart-shaped staircase from the first to the second floor, which can also serve as an amphitheatre.
On the first floor of the Hyundai Motorstudio Moscow is the Car Gallery, where visitors can see and learn about the latest innovations from the brand. This zone will also present contemporary art exhibits all inspired by the latest Hyundai design ideas.
Visitors with a passion for modern technology can make their 'dream drive' come true thanks to the Interactive Car Journey. The system utilizes special screens to create a 180-degree view of the road ahead, as if behind the wheel of their favorite Hyundai.

Rigorously-trained consultants, called 'gurus', provide customers with information about Hyundai Motor's history, its models' design development, as well as show and explain in detail the facility.
MORE: Lord Mayor is going green… in a LEAF
MORE: BCA appoints HPI as data partner
MORE: #CDPower: It's the survey that puts you in the driving seat