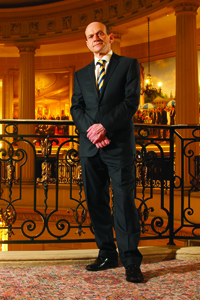 HYUNDAI has set a target of becoming one of the top five manufacturers in the UK.
The president and CEO of Hyundai Motor UK, Tony Whitehorn, spelled out the ambition at a glitzy press briefing at Tate Modern.
It's a big year for the manufacturer, with a raft of launches. And there is talk in the industry press of 'something exciting' being unveiled at the Geneva Motor Show in March.

Whitehorn (pictured) told journalists – including Car Dealer – in London: 'Our short-term ambition is to get to 100,000 units, from this year's 82,000.  Our medium-term ambition is a to get a five per cent market share. Our long-term ambition is a to be in the top five UK manufacturers.
'Our strategy is what I call 20-20-20-20-20. Too many manufacturers rely on one single product. We want to sell 20,000 A-segment cars, 20,000 B-segment cars, 20,000 C-segment cars, 20,000 SUVs, and 20,000 of the rest. If you do that, you're not reliant on one segment. If you do that, and one drops off a cliff, which can happen, you can be really stuck.
'In four, five years, we want to increase our vehicle parc by almost another 50 per cent. That's a very good story for our dealer network, because that gives them solidity. Their after-sales department is a big part of their business in terms of profit. If we can fill their after-sales department with more cars, fantastic.
'And how will we achieve our ambition? New product. That's the key.

'In 2013, we had one facelift. In 2014, we had one new model, the i10. Already this year, by the end of January, we have launched one new model, the i20.
'In March we have the i20 coupe coming, a completely different model than the i20 – we haven't just bolted on a couple more doors. Also in March we are introducing a new i30 family, with an i30 turbo, and in April we will have the new i40.
'Four new cars in four month, and that's just the start of it.'
And Whitehorn revealed the Genesis (below) will be launched to the public from April 22.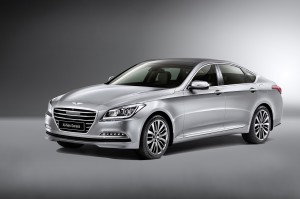 He added: 'It's our halo model, showcasing a lot of the technology that will be cascaded into other vehicles. Some of the technology in the Genesis will be in the new generation i40, for example. It will be sold in seven dealers across the UK, it will cost £47,995 and will showcase the capability of Hyundai, and our style credentials. It's not about volume.'
MORE: Don't forget to enter the Car Dealer Power awards