THE latest edition of Car Dealer Magazine is now available to be downloaded to your iPad – for free!
One of the recurring themes of issue 101 is the Brexit vote. As you might expect, the B-word crops up repeatedly, with many of our regular columnists giving their thoughts on the issue.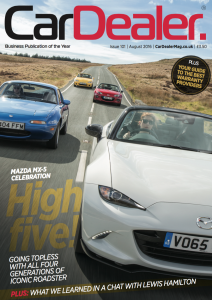 There was a lively discussion on our forum in the aftermath of the referendum, which we have included in our feedback section. It's worth a read.

Also included in the latest edition of your favourite magazine is coverage of a recent Mazda MX-5 extravaganza. We borrowed one of each generation dating all the way back to the Mk1 of 1989 to see just how far the Japanese maker's most iconic car has come over the years.
And since we enjoyed captioning candid snaps of senior staff writer Andrew Evans so much in our 100th issue, we decided to send him out of the office once again – this time trusting him to sell a few MX-5s himself. Find out how he got on.
Elsewhere, we have the latest news from James Baggott's mission to trade his way up the motoring ladder in 100 days, with all the proceeds going to Great Ormond Street Hospital.
And we take a look at the world of extended warranties, chatting to some of our favourite companies.

Finally – and although our famous pre-Christmas awards ceremony might still be months away – it's not too early to secure your place at this year's Used Car Awards. You'll find a booklet included with the mag outlining how to book tickets and tables – there really is no time to lose!
With our usual dose of helpful legal advice from Lawgistics, the latest registration figures from the SMMT and news of a new long-termer to join the Car Dealer fleet, issue 101 is not to be missed. Download it here!
MORE: Desira Group brings SsangYong to Norwich
MORE: Eddie the Eagle lands new partnership with Mitsubishi
MORE: Infiniti network set for rapid expansion in 2016
On SuperUnleaded.com: Biker Gets Swiped While Overtaking Passat, Is Sent Flying