JAGUAR Land Rover UK managing director Jeremy Hicks has told how 'humbling' it was to receive Car Dealer Magazine's Outstanding Achievement of the Year trophy at this year's Used Car Awards.
Led by Hicks, the team of JLR employees swam the Channel in relay in August as part of the Industry Leader Challenge, raising more than £185,000 for automotive charity Ben.
And at the glittering awards ceremony, held at The Brewery in London on Monday and hosted by Mike Brewer, he was presented with the accolade, sponsored by Perfect Placement.

He said: 'It is extremely humbling to receive this award on behalf of my team of intrepid, and slightly mad, colleagues. Our Channel swim was a real challenge for us all.
'We all put in around nine months of training in open water to prepare us for the Channel. But it was even harder than we imagined, only made amenable by the incredible support we had in raising nearly £200,000 for Ben.
'Our retailers played a huge part, too, encouraging their staff to run their own fundraising events. I may be the one accepting the award but there are hundreds of people involved in this, each deserving of recognition.'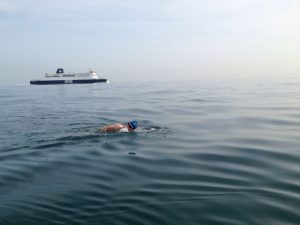 The team of 14 Jaguar Land Rover employees set off from the UK at 10pm on August 24, battling busy shipping lanes and freezing cold water to arrive on French soil just over 16 hours later.

Andy Entwistle, managing director of Car Dealer publisher Blackball Media, said: 'Our Outstanding Achievement is always handed to the individual or team that has gone above and beyond the call of duty, either at work or for charity.
'The motor industry gives so much to the local communities and national charities that it is often hard to single out the most deserving achievement. However, despite some excellent nominations this year, what Jeremy and the team achieved is quite simply amazing, not just in the fantastic amount they raised for an important charity but also the way they did it.
'This really was as dangerous as it looked, and as soon as I was asked who I felt was most worthy of this award, it was clear there could be only one winner this year!'
Pictured at top from left are Perfect Placement director of business development Jimi Matthews, Jaguar Land Rover UK marketing director Scott Dicken, Jeremy Hicks and Mike Brewer at the Used Car Awards
MORE: They've done it! JLR swimmers arrive in France after Channel charity challenge
MORE: JLR Channel challenge raises £185,000 for Ben
MORE: Who won what at the 2017 Used Car Awards?
On SuperUnleaded.com: The 6 best moments of the 2017 Formula One season