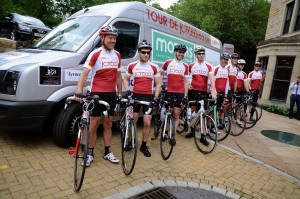 A TEAM of cyclists from JCT600 has successfully completed a 640-mile charity trip.
Twenty-eight intrepid riders from the company took part in the 'Grand Depart', cycling past all 47 of the group's dealerships across Yorkshire, the North East, the Humber, Derbyshire, Lincolnshire and Nottinghamshire in just five days.
The charity challenge was supported by donations from colleagues, friends and partner companies. A total of £19,500 has been raised so far with more sponsorship still coming in.

The money will go to the Bradford-based motor retailer's chosen charity for 2014, the Association of Young People with ME.
The core team led by JCT600 finance director Nigel Shaw comprised colleagues Martin Holmes, brand financial controller volume division; Simon Morton, Mercedes-Benz technician; and Marc Peasegood, Volkswagen Rotherham workshop controller.
Colleagues Chris Bray, Stephen Booker, David Haigh, Max Osborne and Brendan Poole rode part of the route as well as providing driver support. A further 20 colleagues joined the JCT600 peloton along the way.
JCT600 was supported by more than 30 companies including Grant Thornton, Gordons Solicitors, Platinum Print, Auto Trader, Motors, Premia, Castrol and W Denis Insurance Brokers. The peloton swelled further as representatives from these partner companies took to the road too.

Mr Shaw said: 'The cycle ride was another fantastic charity event for JCT600 with more than 60 colleagues and friends from our partner companies taking to two wheels and completing this mammoth challenge in aid of a small, but vital charity.
'It was a gruelling but hugely enjoyable five days. Many thanks to everyone who took part, came out to support us along the way and who generously donated.'