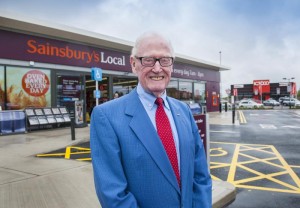 CAR dealer JCT600 has reclaimed the land where its first dealership was built 42 years after selling it.
Known locally as 'the JCT roundabout', the Rawdon roundabout near Bradford is where Jack Tordoff founded the company in 1946.
In 1968 Tordoff bought the land but he sold it on four years later and says he has regretted it ever since.

'I decided to sell and lease back the property to raise investment capital for the business in 1972, but I've always regretted having to do so.
'Due to a clause we inserted in our lease some time ago, we've had the opportunity to buy back the site.
'The location is synonymous with the JCT600 brand and is part of our long heritage, so we're pleased to have the deeds back with us after more than 40 years.'
Various different operators have owned the site over the years but the JCT600 dealership has remained there.

JCT600 has bought the entire site, including a petrol station and a new Sainsbury's Local shop.