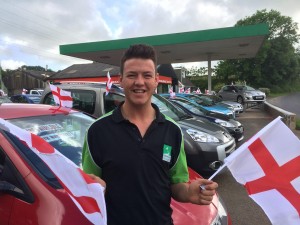 UGBOROUGH Garages in Ivybridge, Devon, was able to capitalise on its Car Dealer Club membership when a customer recently threatened legal action.
Sales manager James Lugger suspected they didn't have a leg to stand on and Car Dealer Club legal partner Lawgistics was able to confirm this, saving Ugborough Garages a lot of cash.
Lugger explained: 'I had a customer complaint and I thought I'd give Lawgistics a go and see what they said about the situation.

'The customer had bought a 2006 Honda CR-V with nearly 100,000 miles on the clock and threatened legal action over a chip
 on the windscreen.
'As part of our package, the car came with a PDI inspection and also a 12-month MOT, so this wasn't a dangerous chip – it was just a cosmetic thing.'
However, the customer wasn't satisfied and threatened legal action – and this was when Lugger picked up the phone to the experienced team at Lawgistics to see what they had to say.
'They basically reiterated what I thought initially,' he said, 'but it was good to have this confirmed by a professional.'

When Lugger spoke to the customer again the matter was swiftly ended, saving him and the dealership money.
He said: 'We didn't need to take any further action in the end because I explained what Lawgistics said and that deterred him. This is really good because I'm quite a nice person and otherwise I probably would have ended up replacing a windscreen!'
Lugger admitted that his main motivation to join Car Dealer Club was the magazine but said that becoming a member was paying off in other ways too.
'There's quite a long list of benefits to Car Dealer Club but I'm also a bit of a geek so I like reading about cars and particularly the stats in the back,' said Lugger. 'However, the other benefits such as the advice on offer from Lawgistics were also quite appealing. The other discounts available to members are really useful too because they're for companies that I actually use.'
Car Dealer Club membership costs just £39.99 for a year. Along with a subscription to the magazine, members get legal advice from Lawgistics worth £195 and a whole host of other benefits.
'I would definitely recommend the service to other people because customers are under the impression that all motor traders are crooks, whereas as a motor trader, you see a lot of customers that are crooks! We at least need a system where we can protect ourselves. There are plenty of ways that customers can protect themselves but not so much for us. Car Dealer Club offers some great protection.'