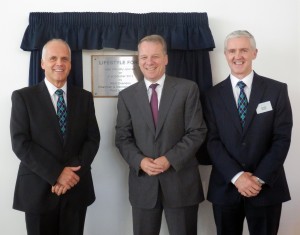 LIFESTYLE Ford has officially opened its new showroom in Old Guildford Road, Horsham.
Construction of the building took just seven months to complete, and involved a total investment of £5 million.
Mark Ovenden, chairman and managing director, Ford of Britain, officially unveiled a commemorative plaque in front of staff and customers who attended the opening.

Speaking at the ceremony, Ovenden commented: 'It's great to witness the official opening of this new showroom. The new, stylish design perfectly underlines everything that the Ford brand and its cars represent, and I'm sure it will be a great asset to customers in Horsham and the surrounding area.'
Marc Matthew, chairman of the Lifestyle Motor Group in Horsham, stated: 'We're very excited to introduce customers to our new and improved showroom on Old Guildford Road. The clean and sophisticated look will really appeal to our customers and give them even more of a reason to visit our dealership.
'All of our staff based in Horsham and across the group see the development as an exciting time in the group's growth and it clearly demonstrates our commitment to the future representation of Ford.'
The eight-vehicle showroom, where 80 people are employed, holds the entire range of Ford vehicles, including the brand's latest addition, the Ford EcoSport; the Fiesta and Focus featuring Ford's award-winning EcoBoost engines; the Kuga SUV; New Ford Mondeo and the S-MAX and Galaxy MPV ranges.

Local business are also fully catered for via a specialist business and fleet team who have the complete Ford commercial vehicle range on site.
MORE: Looking good! An excellent performance at Lookers
MORE: New look for showrooms going down well with Mazda dealers
MORE: Suzuki expands with opening of new dealership in Lincoln