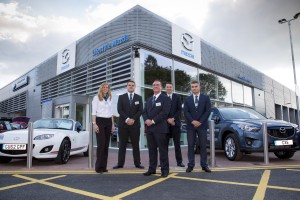 MAZDA dealers are showing their enthusiasm for the brand by embracing the company's new look.
Mazda UK is planning to complete installations of the brand's new visual identity at 80 per cent of its 136-strong network by next March.
Managing director Jeremy Thomson sees this as a great endorsement of Mazda with dealers showing their willingness to invest in the brand. 'The new look has great kerb appeal and is very cost-effective,' he said.

It's a view that seems to be backed by dealers. The Mazda brand manager at the Lifestyle Group, Mark Spowage, said it was refreshing to have a more upmarket look and feel and that customers had been reacting positively.
Lifestyle Group has just completed purpose-built Ford and Mazda showrooms in Horsham, Sussex, and is about to install the new look at its Gatwick outlet.
The new look, which was pioneered in the UK as part of a European-wide project, comes as Mazda experiences sales growth of 20 per cent. 'The product we have now is fantastic and we're really looking forward to next year which will be the busiest year ever for Mazda,' said Spowage. 'It's green lights all the way.'
The sales increase – from 25,000 just a couple of years ago to more than 37,500 this year – comes from a more streamlined and profitable dealer network. Thomson said: 'It means more cars sold through existing outlets which is helping dealer profitability and reinforcing our position as the franchise of choice for those dealers who want to expand their portfolio.'

MORE: Mazda UK growth is more than twice that of the industry
MORE: Top five cars of the Paris Motor Show