LOOKERS plc has entered into a conditional agreement to acquire Warwick Holdings Ltd, better known as the Drayton Group, for £55.4m in cash.
Drayton Group operates a successful chain of Mercedes-Benz dealerships in the West Midlands and has a reputation for providing outstanding customer service.
Founded in 1915, the company has evolved into a luxury car retailer offering sales, parts, and service and repair facilities for new and used cars.

It has been Mercedes-Benz Retailer of the Year four times.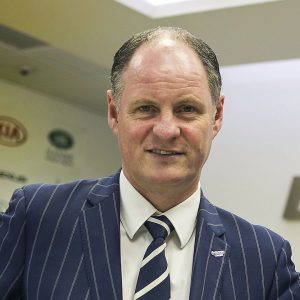 The company operates from seven locations: Stoke-on-Trent, Stafford, Shrewsbury, Wolverhampton, Walsall, Stourbridge and Worcester.
The acquisition will increase Lookers' partnership with Mercedes Benz and Smart where the new combined business will have an annual turnover in excess of £600m.
Drayton Group's statutory accounts for the year ended December 31, 2015 reported turnover of £276m and profit before tax of £5.2m.

The company had gross assets of £84.2m and net assets of £22.0m. This acquisition is expected to be earnings-enhancing for the year ending December 31, 2017.
The deal is being funded from existing bank facilities and at the moment, a conditional contract is in place, with the condition being the successful conclusion of the sale of Lookers' parts division, which is expected to complete by the end of October.
Andy Bruce, pictured, chief executive of Lookers, said: 'As noted in our announcement on August 10, 2016, we are looking to accelerate growth and today's announcement shows we are putting the proceeds from the proposed disposal of the parts division to work as quickly as possible.
'We look forward to welcoming the Drayton team to the Lookers Group as it will enable us to increase our growth by adding value through excellent execution and targeted acquisitions. This acquisition will also help to build the company's presence in the midlands.
'I have been very impressed with the quality of Drayton Group's business, outstanding customer service and commitment to employee satisfaction. These qualities complement Lookers' culture and will allow us to advance our strategy of having the right brands in the right locations in order to take advantage of further growth opportunities.'
The shareholders of Drayton Group were advised on the deal by David Kendrick and Paul Daly, automotive partners at UHY Hacker Young.
Kendrick said: 'The Drayton Mercedes-Benz business is regarded as one of the premier prestige groups in the UK.
'Having known the shareholders for some time, it was fantastic to deliver a deal for them that gave them a clean exit and also an acquirer in Lookers that has very similar values and culture. The Lookers team will no doubt develop the business further in the future and this purchase takes their number of Mercedes market areas to two.
'The demand for premium-brand businesses certainly continues to increase and we have no doubt there will be further consolidation and perhaps some new international entrants into the UK market over the coming months.'
MORE: Rare pair of open-top Ferraris go on show at Hexagon Classics
MORE: Lookers to fund brand expansion after selling its parts business
MORE: Book your space now on our Ferrari-tastic Bangers4BEN rally
On SuperUnleaded.com: Is Matt LeBlanc Returning To Top Gear? We Really Hope So