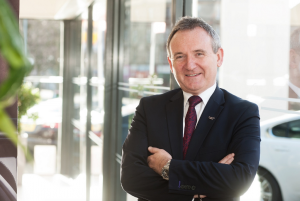 LOOKERS plc has further expanded its Jaguar operation in the UK by acquiring the Amersham Jaguar business from Jardine Motors Group.
The purchase, the price of which was not disclosed, brings to five the total number of substantial, standalone Jaguar businesses operated by Manchester-based Lookers.
Amersham Jaguar, which is located on London Road, to the north-west of Watford and London, is a welcome, strategic addition to Lookers' wider Jaguar and Land Rover network in the UK, the company said.

Lookers currently operates successful, established Jaguar businesses at Charles Hurst Jaguar Belfast; Lookers Jaguar Park Royal and at key sites in Glasgow and Motherwell through its wholly-owned Taggarts Motor Group subsidiary.
Charles Hurst Limited in Northern Ireland is also part of Lookers plc. Lookers also has a substantial Land Rover business in the UK, operating from 10 locations around the UK.
Lookers chief executive Andy Bruce said: 'Amersham Jaguar is a well-known and well-respected business with a reputation for delivering quality customer service to its significant Jaguar customer base.'
Gordon Haining, pictured, franchise director for Jaguar and Land Rover, said: 'We look forward to welcoming the great team at Amersham Jaguar to Lookers.'

In December 2014, Lookers opened a multi-million-pound Land Rover showroom in Battersea, creating 30 jobs. The cutting-edge, custom-built site was the first Land Rover facility of its kind to be built in the UK.
MORE: Wessex Garages predicts September 65 plate success
MORE: Marshall Motor Group among the best places to work
MORE: EDT Automotive appoints new national sales manager
On Superunleaded.com: Driver's tug of war battle with tow truck is immense