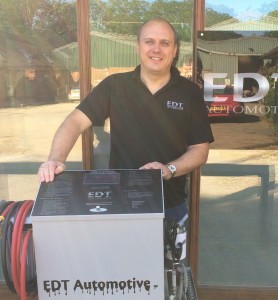 JON TATNALL, formerly dealer principal at Yeomans Peugeot and Hyundai in Hastings, has joined Kent-based engine detox specialist EDT Automotive as national sales manager.
A motor trade man through and through, Tatnall started his career as a trainee sales executive at Sidlow Group, before taking increasingly senior roles at Lifestyle, Pinewood and Pendragon.
Shortly after becoming dealer principal at Yeomans in 2013, Tatnall discovered EDT during a profit clinic for Peugeot general managers at Charters in Aldershot.

Within two weeks he had an EDT machine installed at Hastings. The dealership went on to win a Golden Lion customer excellence award.
The former EDT customer will now head a team tasked with growing the company's UK network. He will report directly to EDT managing director, David Holmes.
Tatnall said: 'In these days of exhausted revenue streams, EDT is close to a fairy tale. The ''detox your car'' message is very effective. At Yeomans we were doing 25-30 treatments a month, earning a healthy profit on each job card.
'My target is to add 65 more UK sites in my first year. Filling open points in Scotland, Wales and Northern Ireland is our top priority.'

With an effect likened to descaling a dishwasher, the hand-built EDT machine cleans petrol or diesel engines with an environmentally-friendly solution.
Holmes said: 'We are delighted that Jon has agreed to become our national sales manager.'
MORE: Manufacturers welcome continuation of Plug-in Car Grant
MORE: Busy September 'could be the calm before the storm' says CAP
MORE: Duo taking on charity challenges in memory of young Elliot
On SuperUnleaded.com: Driver sunbathes next to his van in middle of motorway