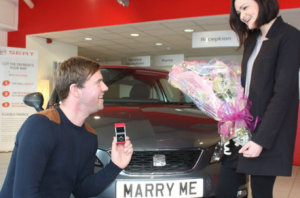 AS proud as we think many dealers should be about their sparkling premises, even the most impressive showrooms probably wouldn't make it into a list of potential spots to pop the question.
In the case of a couple from Lincoln however, that obviously proved not to be the case – choosing not the Eiffel Tower or London eye as a venue for the proposal, but a Seat dealership in South Hykeham.
Wayne Thompson popped the question to his girlfriend – Melissa Grant – while picking up a brand new Ibiza, getting the dealership staff of Horton Seat on board to prepare things for the big moment.

Rather than being handed a set of keys, though, girlfriend Melissa found her partner down on one knee – having planned the whole event in the days running up to proposal.
'Funny thing is she had asked me only the day before if I would ever lie to her,' said Wayne, 'and in fact I had to say I was going to the gym that afternoon, when in reality I was at the dealership sorting out all the arrangements!
'I hope she'll forgive me that one!'
Thankfully for the soon-to-be-husband, it seems she did: with the proposal coming as a big surprise.

'I couldn't believe it, I had absolutely no idea what he had planned,' she said.
'When we walked into the showroom I was greeted by my boyfriend on one knee, flowers, champagne and an engagement ring – those were optional extras I hadn't ordered with the car!'
Katie Freeman, dealer principal at Horton Seat, said she was thrilled to see the unusual event taking place.
'We are thrilled that Wayne chose to propose in the showroom and we wish them every success for their future together,' she commented.
What's not certain, however, is whether the couple will be getting a wedding present from the staff. We reckon the chaps at Horton Seat should wrap up some floor mats at the very least…
Have you filled in our Car Dealer Power survey yet? It's a great opportunity to have your say, and you could win one of seven great prizes! Click here to enter.