MAZDA has showcased a brand new design at the Tokyo Motor Show – a look that'll soon be rolled out across every one of its models.
The evolution of the brand's famous 'Kodo design', which has defined the last generation of Mazda cars, now features cleaner, more elegant lines.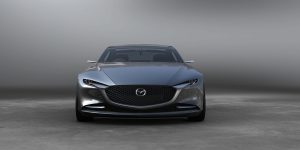 The Japanese firm showcased the fresh face for the brand with the Vision Coupe concept at a special preview design event at a dealership in the centre of the city.

Speaking at the event, Mazda UK boss Jeremy Thomson said that if the last Kodo design was anything to go by, we'll see this new look rolled out across the range 'very soon'.
He said: 'This will progressively flow through our designs. It's clear the global design teams have been working on this for some time, so I would expect the cars that will launch next year onwards will have a strong sense of this.'
Chief designer Ikuo Maeda unveiled the Vision Coupe design concept – a four-door model – at the exclusive event and explained the firm's designers had gone back to basics with the look.
He said: 'With this new concept we are breathing new life into the car. Not many cars these days can be described as elegant, they're so complicated. We see a value in taking on this artistic challenge.

This is Mazda's Vision Coupe concept. It's showcasing the new design look of all future Mazdas. Pretty thing pic.twitter.com/51TTFhKKZ0

— James Baggott (@CarDealerEd) October 25, 2017
'Kodo design is an ongoing tradition, but I have thought long and hard about how to move it on. Mazda will be about elegance, it's about the art of light and manipulating it. Our cars will have a simple aesthetic appeal, a sense of motion in their form and a sense of speed.'
The Vision Coupe is certainly elegant. A gaping grille, sweeping lines across the bonnet and curved, tight haunches make it really stand out. And you can see how it could be translated to update existing models, like the Mazda 6, Mazda 3 and MX-5.
Thomson said that although the Vision Coupe is clearly a concept, there could still be space in the range for such a car.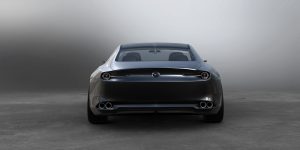 He said: 'We're very successful, particularly in the retail private market, with the existing Mazda 6 four-door.
'We used to have a strong element in the UK with the five-door and I was nervous when we dropped it about the impact it would have on our market volume and share.
'There's space for four-door coupes, both in the C-segment and the C/D-segment, the small and large family cars. And it's not just about the UK, of course, being out here in Tokyo, we take a global look at it and there are some countries where it's crucial.
'North America is a key one and you see a lot of large four-door cars around Tokyo.'
Mazda refused to speculate further on whether the Vision Coupe would go into production.
MORE: Mazda scrappage scheme offers drivers a great opportunity
MORE: Fireworks mark official opening of Jennings Kia and Mazda dealership in Sunderland
On SuperUnleaded.com: Five cool cars at the 2017 Tokyo Motor Show