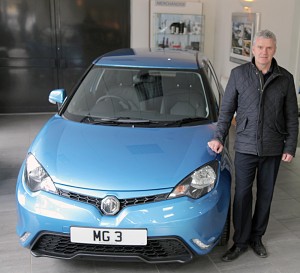 MG's 26th new dealership in the past 12 months is to open tomorrow.
Normandy Garage, in Guildford, opens on April Fool's Day as sales of modern MG's hit new record levels.
Last year MG was the fastest-growing automotive brand in Britain and results for the first quarter of 2015, due out soon, are expected to show an even further acceleration of sales.

Ian Richards, managing director of Normandy Garage, said: 'It's thrilling to be involved in this fantastic resurgence of such a great brand. We don't want to waste any time in selling the cars, that's why we want to go live on April 1 just as soon as our cars arrive – anyone interested in a brilliant new MG would be a fool to miss out!
'We will have 11 new MG3s at launch and in fact we've had a lot of interest from customers because our MG signage is already in place. This is a brand that is going places.'
Normandy Garage is a family-owned business which was started by Ian's father, John Richards, in 1966. The modern, six-car showroom, backed by four workshop bays, is in Guildford Road, Normandy, midway between Guildford town centre and Aldershot. It has a staff of 18 people.
Ian said: 'Having driven the new MGs and been to see the operation at Longbridge, I'm really positive about MG. In fact, I'm already looking ahead and thinking of expanding our showroom to cope with the new MGs products that are coming along.

'It's too easy to under-estimate just how good the new MGs are. You only have to drive them to understand what brilliant dynamics they have and you just have to look at the price and high standard specifications to see why MGs make so much sense to so many people.'
MORE: Advertising on RAC Cars is now free for all dealers
MORE: Lookers reward their best-performing staff at glittering ceremony
MORE: Three manufacturers announce £1bn UK investment
On superunleaded.com – Piers Morgan's Advice For Clarkson Is Ridiculously Annoying