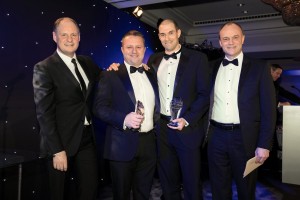 LOOKERS plc has officially marked a stellar year of success by rewarding its best-performing staff at its annual Guild of Excellence awards.
Celebrating 12 months in which the company delivered its best results on record – and a sixth successive year of profit growth – Lookers recognised and acknowledged the contributions made from employees from every division across the UK and Ireland at a ceremony in Barcelona.
The categories included dealership of the year, which was won by Renault franchise manager Jeff McCartney from Newtownards in Northern Ireland and salesperson of the year, George Milton from Lomond Audi in Ayr, Scotland.

All UK regions were represented in the final winner line-up, with selections made based on monitored performance levels, customer satisfaction ratings and the overall profit contribution made the group.
Key sponsors of this year's award ceremony and top categories included Shell, AutoTrader, Blackhorse, Fastrack, LKQ Coatings, Stapleton's Tyres, Premia Solutions, The Warranty Group, CCS and GardX.
Lookers chief executive Andy Bruce said: 'We are delighted that our Guild of Excellence Awards is now firmly-established annual event which quite rightly recognises the fantastic contribution made by all our dedicated staff, right across our entire company and in every region.'
Nigel McMinn, managing director of Lookers, added: 'The Guild Excellence Awards are a fantastic way of showing our entire team just how much we appreciate their continued dedication and hard work.'

Who won what…
Dealership Best Support: Dave Harrop, Renault and Skoda, Stockport.
Head Office Best Support: Chris Worth, Lookers Head Office, Manchester.
Salesperson of the Year: George Milton, Lomond Audi, Ayr.
Outstanding Contribution to Charity: Eleanor Huntington, Vauxhall, Birkenhead.
Aftersales Person of the Year: Nicola Freedman, Taggarts Hyundai, Motherwell.
Corporate Sales Person of the Year: David Scott, Vauxhall, Yardley.
Chairman's NICER Award: Alex Paterson, Volvo, Glasgow, Scotland.
Bodyshop Manager of the Year: Iain Murdoch, Accident Repair Centre, Glasgow, Scotland.
Parts Manager of the Year: Mark Smith, Ford, Colchester, Essex.
Service Manager of the Year: Willie Coll, Land Rover, Glasgow South.
Business Manager of the Year: Ben Reay and Mark Grigg, MB Smart, Maidstone, Kent.
Sales Manager of the Year: Mark Currie, MB Smart, Maidstone.
Dealership of the Year: Jeff McCartney, Renault, Newtownards, Co Down, Northern Ireland.
MORE: Surge in visitor numbers year-on-year for Motors.co.uk
MORE: British Car Auctions bought by Haversham Holdings
MORE: New Karcher role for Jeff – and he's looking forward to the Car Dealer conference!
On SuperUnleaded.com: How to spot one of the latest unmarked police cars