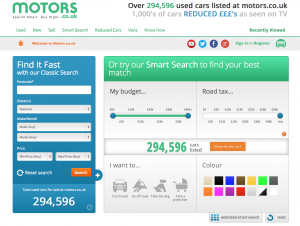 CAR search site, Motors.co.uk, today revealed a significant step-change in the volume of unique visitors across its growing network.
The data, as measured by comScore, the independent digital analytics company, shows the Motors.co.uk network continued to expand in January 2015, with growth of 49.8 per cent over the same month in 2014.
Andy Coulthurst, managing director of Motors.co.uk, explained: 'A surge in visits to Motors.co.uk from mobile and tablet devices, continued investment in TV advertising and a commitment to growing the portfolio of sites within our network has driven a record level of in-market car buyers to the platforms that advertise our dealers' stock.'

The comScore data measured the Motors.co.uk network's unique audience at 3.54 million unique visitors in January 2015, 64 per cent of the comparative figure for auto classifieds market leader, Autotrader.co.uk, which stood at 5.54 million. The Motors.co.uk figure has grown from 40 per cent in January 2014.
Coulthurst added: 'We are all very excited at being able to deliver this incredible result for our dealers and everything points towards us extending this growth in March.
'Our new Smart Finger TV campaign has already delivered record responses for dealers and stock levels are at an all-time peak of 290,000 cars.'
Most leading UK car dealer groups choose to advertise their used car stock on both the Motors.co.uk network and with Autotrader.co.uk.

MORE: BCA bought by Haversham Holdings for £1.2billion
MORE: New Karcher role for Jeff Hilton
MORE: Come along and join us… be part of a very special day!
On SuperUnleaded.com: Pizza delivery man invades Pope's convoy, doesn't get shot