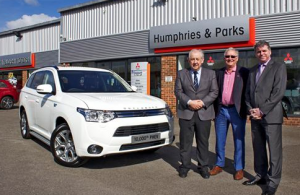 MITSUBISHI Motors (UK) has reached a significant milestone after selling its 10,000th Outlander PHEV in the UK in its first year.
The landmark handover took place at the Humphries & Parks Mitsubishi dealership in West Malling, Kent, with Paul Aspin, of Sittingbourne, being handed the keys by Lance Bradley, managing director of Mitsubishi Motors (UK).
The award-winning Outlander PHEV is transforming the plug-in sector. Launched in April 2014, it has now overtaken every other plug-in hybrid and pure electric car to become the UK's favourite plug-in vehicle.

Paul, a retired director of marketing for IBM Europe, said: 'It's a fantastic vehicle and I'm happy to be the 10,000th customer. The Outlander PHEV ticks all the boxes for me. It's great to drive, it's comfortable, economical and it's good for the environment. It's got lots of clever technology but you don't need to be a tech expert to use it.'
Bradley said: 'To sell 10,000 Outlander PHEVs between June and the end of March was a challenge set by our colleagues in Japan. Given the market for plug-in hybrid vehicles in 2013 was 980, it seemed like a very big challenge. But the reaction to the vehicle has been fantastic and that is because it's a car without compromise.
'People want to be environmentally responsible but they still want to have a car that is great to drive and doesn't cost significantly more than equivalent traditional petrol or diesel powered car.'
Marcus Joy, dealer principal at the London Road showroom, said: 'This is the 92nd PHEV we have sold and we are delighted it's the 10,000th for Mitsubishi Motors (UK). The Outlander PHEV has been a fantastic success for us and it's definitely created a halo around the brand, enabling us to sell more of the other products in the range, which can only be good for everyone in the network.'

Pictured are Marcus Joy, customer Paul Aspin and Lance Bradley
MORE: Why no-one can afford to miss the Car Dealer Conference & Expo
MORE: Motorline buys Maserati dealership from Arrow
On superunleaded.com – McLaren Unveils Its New Baby 570S Supercar