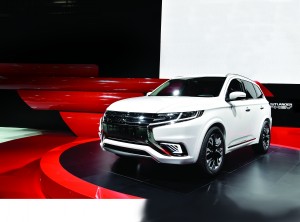 FANS of performance Mitsubishi models who fear the manufacturer's days of excitement are dead and buried have reason to be cheerful, believes Mitsubishi UK managing director Lance Bradley.
Even though the Evo name may be currently resting – and unlikely ever to return in its current guise – Bradley said there were still some exciting models planned for those Mitsubishi fans with petrol coursing through their veins.
'I can give you hope,' he told Car Dealer when we asked about future performance model plans. 'It's a question I ask whenever I go to Japan. There's no reason hybrid SUV technology can't mean exciting cars to drive. On the stand outside there's a cross-Asia rally Outlander. There's no reason plug-in hybrid and excitement can't work together. Another Evo in its current format is unlikely, though.
'However, I can possibly see performance versions of our SUVs. It's early days though and the priority now is establishing PHEV in the market and people's minds.

'Once we have done that it's a relatively short step to producing a performance version of the car. As to whether it would have an Evo badge on it, well, I don't know. It would have to be an Evo to wear that badge, but there's no reason why it can't.'
Currently, Bradley and his dealer network are very much focused on the recently introduced Outlander PHEV, which he has lauded as the 'most successful launch ever' for the manufacturer.
In an exclusive one-on-one interview at the Paris Motor Show, he told Car Dealer: 'For the last 10 years L200 was our biggest-selling product by a factor of nearly double the next closest model, but it will be outsold by a factor of two by Outlander. In one year!
'To come straight in and probably do around 10,000 PHEVs and 3,000 diesels is extraordinary.

The only way we could do that was to get everything right and we planned very carefully for 12 solid months for this car as we knew how good it was.'
The PHEV has been a remarkable success for the firm since its introduction in June and the sales rate is rising every month.
Bradley added: 'We've only just started with PHEV. We are having a fantastic time and dealers are making more money than they have for a long time, possibly ever. Our sales rate is climbing every month and we've only just seen the momentum from that car begin.
'We don't know how long that will go on for. We monitor order take and registrations and we will see if that starts to tail off but it isn't, it is still increasing. The run rate is just under 10,000 units for this year and it is an almost straight upwards curve from when the car went on sale in June. We are certainly still in the growth phase.'
This success has led to incredible numbers for the firm's dealer network, which is enjoying sales that are up 90 per cent this year, but that hasn't been without its problems.
Bradley said: 'It's a very big change to the business. We knew it would happen, but not by 90 per cent. We knew there would be good growth though. We started talking to the dealers last year and some reacted quickly and took on extra people, some didn't react as fast and they're finding it really hard.'
This unprecedented sales surge, combined with an increase in marketing spend that has seen the brand return to TV advertising for the first time in years, has resulted in the need for more dealers.
A steady stream of new dealer launches has taken place in 2013 and 2014, with the network now 120 strong – but Bradley is still looking for more. He added: 'With today's volumes we probably need 130 dealers, so we're still looking for very good retailers.
'In the majority of cases we are getting a choice of dealers where we have an open point. In some areas we've had someone really good and ones who we've had to turn down because there was someone better, and that means in some cases we've been kicking ourselves. But that's a nice position to be in.
'However, we are still looking to fill 10 open points – Liverpool, Manchester needs another, smaller parts of Scotland, Yorkshire, the far south- east of England, all have opportunities. We're keen to hear from anyone who is interested.'
MORE: Mitsubishi dealership welcomes boost for electric motoring
MORE: A third more dealers have 50+ cars, says Auto Trader
MORE: New kid on the Jaguar block is packing a powerful punch