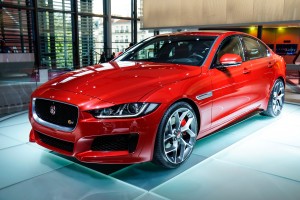 WHAT we're doing with the XE at a crude level is like a kid walking to the playground, picking the three biggest kids and thumping them smartly on the nose. So says Jaguar Land Rover UK managing director Jeremy Hicks.
If one thing is clear, it's that Jaguar is hugely confident about the impact that its XE compact executive saloon is going to have against established models from BMW, Audi and Mercedes. With rear-wheel drive, striking looks and extremely low emissions, which should particularly grab the attention of company car users, you'd be unwise to bet against the company.
Hicks continues: 'We've been
 absent. The good thing about XE is 
that ground up it's brand new, from 
the whole platform, engines, fantastic
 interiors. It looks good, it drives well
and we already know it will have
 strong residual values. We're targeting 
the German premium brands and we think we've got every right to do it because we think we're deserving of our place in that playground.'

And the result of this new addition to Jaguar showrooms? Hicks predicts that dealers are going to see 'twice as many inquiries as they see today, because we've opened up a huge sector
of the market that previously we weren't in' – meaning the chance for greater sales volume and a real opportunity for dealers to boost their profits.
Signifying a shift from previous Jaguars, the XE should make a big dent in the corporate sales sector, thanks to its car-tax-dodging 99g/km CO2 emissions and claimed economy of 75.0mpg for the most frugal 2.0-litre 161bhp diesel, which can still hit 60mph in less than eight seconds. At the other end of the range, the XE S packs the supercharged 3.0-litre V6, which features in the F-Type, and is capable of catapulting the saloon to 60mph in under five seconds.
The key to the XE's appeal, though, is threefold, states Hicks. 'The car looks stunning. And it drives better [than 
the competition]. Believe you me, we know we've got a winner on our hands from a driving
point of view.
'And the third USP is that we are competitive in the marketplace. Not just from a retail price, because we're bang on with the competition. We expect strong residual values, we know we've got good whole-life costs, we've put service plans behind the car, so we know that from a monthly payment point of view we're really going to be right in there.'

The final trick in the XE's armoury is the inclusion of 'All Surface Progress Control', which should allay potential buyers' fears of being marooned should the slightest amount of snow settle on the roads. This sophisticated traction control is 'phenomenal', according to Hicks. 'It's a piece of technology which starts to answer people's concerns. The traction control and gearbox configures the car so it pulls away smoothly without wheelspin.'
Chris Lloyd
MORE: Moray Callum: 'If it was up to me, I'd look to design the Capri'
MORE: Lotus Group CEO states 'I would not exclude having 20 more dealers'