MONEYPENNY, the telephone answering specialist, today unveiled its new £15m headquarters in Wrexham – complete with its own treehouse!
Designed to create 'the happiest workplace in the UK,' the pioneering building reflects the company's rapid growth. Its design has been based on the feedback of its 500 employees – many of whom work with leading brands in the automotive sector.
Ed Reeves, co-founder and director of Moneypenny, masterminded the project. He said: 'We understand completely what our automotive clients need, and that's the very best receptionists in the world.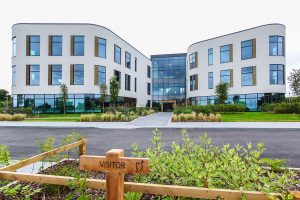 'Our new office has once again raised the bar in achieving this, ensuring we continue to attract and retain the most talented receptionists in order to support our automotive clients in the future.'
Inside, the striking 91,000sq ft building – which rivals the likes of Google and Apple's headquarters – boasts a treehouse meeting room, its own village pub, a sun terrace and a triple-height atrium with stadium seating and a restaurant offering free breakfast and fruit.
The environment outside the development is equally impressive and surrounded by seven acres of landscaped grounds with nature trails, a duck pond and orchards with picturesque countryside views.
Reeves said: 'For us, the office is more than just bricks and mortar. It's a manifestation of our ethos, of our achievements so far, of our culture, and of our aspirations.'

Joanna Swash, commercial director for Moneypenny, said: 'We're absolutely thrilled to reveal our new head office. Since Moneypenny was founded 16 years ago, it's been our aim to set the industry standard for excellence and our new headquarters is a natural progression of this.'
MORE: New state-of-the-art home for Brindley Volvo, Wolverhampton
MORE: Volvo Car UK appoints new managing director
MORE: Motor Codes launches vehicle sales code of practice
On SuperUnleaded.com: Bodycam Captures Moment Police Officer Rescues Man From Burning Car