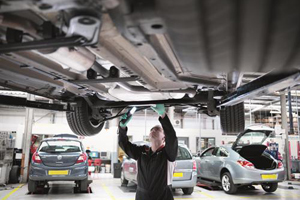 MOT failure rates have soared in the last two years, according to Halfords Autocentres.
Two in five vehicles failed their MOTs at the firm's centres from April 2011 to March 2012 –  over 100,000 more than in the same period 12 months earlier.
Halfords puts this down to a lack of basic maintenance, as customers fail to even give their vehicles a quick once-over before test day.

The firm's research suggests that a third of British motorists follow a 'hope for the best' attitude' when taking a car in for an MOT – something that costs them time and money.
One in five admit they lack knowledge surrounding MOTs, too, therefore failing to see any issues prior to testing. Halfords Autocentres' Rory Carlin puts this down to the complex nature of modern cars.
'Today's technologically advanced cars are daunting for many motorists who state a lack of knowledge as the key reason for not attempting to identify potential issues with their cars in advance of the MOT,' he said.
'This is then compounded by poor communication from the people with the expertise. More than a quarter of car owners have previously been left feeling that work that has been recommended in order to pass the MOT was unnecessary.'

Halfords also suggest that many motorists are confusing the test for a health check –neglecting to service their cars.
'We have found some evidence of motorists using the annual MOT as a replacement for regular servicing but this is a false economy because it increases both the risk of potential damage to a vehicle and the likely repairs costs to rectify it.'