April new car registrations were down 97.3 per cent – with just 4,321 new cars purchased according to official figures from the SMMT.
The SMMT is forecasting that around 1.68m new cars will be registered during the whole of 2020, which would represent a 27 per cent decline on last year – the lowest since 1992. Currently, the market is 43.4 per cent down this year.
April's decline was the steepest of modern times, and is in line with similar falls across Europe, with France 88.8 per cent down and the Italian market falling by 97.5 per cent in April.

Fleet orders represented the bulk of the market, taking 71.5 per cent market share, equivalent to 3,090 units, while private buyers registered just 871 cars – a year-on-year fall of 98.7 per cent.
The Tesla Model 3 was the best-selling car – mostly due to the fact a boatload of them arrived and could be delivered in the month – with 658 registered. The Jaguar I-Pace was second with 367 registrations and the Vauxhall Corsa third with 264.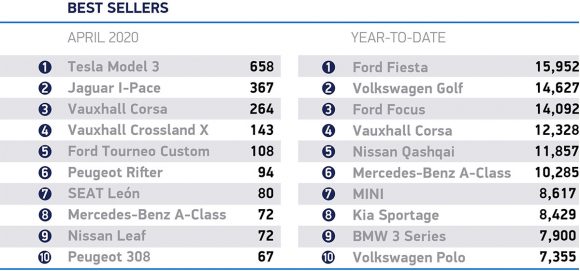 Mike Hawes, SMMT chief executive, said: 'With the UK's showrooms closed for the whole of April, the market's worst performance in living memory is hardly surprising.
'These figures, however, still make for exceptionally grim reading, not least for the hundreds of thousands of people whose livelihoods depend on the sector.

'A strong new car market supports a healthy economy and as Britain starts to plan for recovery, we need car retail to be in the vanguard. Safely restarting this most critical sector and revitalising what will, inevitably, be subdued demand will be key to unlocking manufacturing and accelerating the UK's economic regeneration.'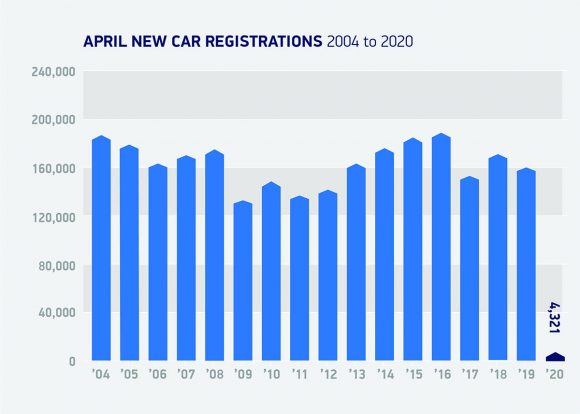 The SMMT also released its new car market forecast for 2020, downgrading previous expectations to just 1.68m registrations. This puts the sector on course to record its worst performance since 1992's 1.59m units, below the levels seen during the financial crisis and some and 27 per cent lower than the 2.31m new cars registered in 2019.
April's fall follows a significant drop in March which saw new car sales figures fall by 44.4 per cant. Dealerships closed on March 23 and the end of the first quarter was badly hit.
Jim Holder, editorial director of What Car? magazine, said the figures for April were 'disastrous but not unexpected', as buying a new car was 'as far from people's minds as you can possibly get'.
He added: 'It's consistent with the figures coming through from the rest of Europe. Everything was frozen for a month.'
Seán Kemple, director of sales at Close Brothers Motor Finance, said the figures were not a surprise to the industry.
He said: 'With the economy ground to a halt in light of Covid-19, new car sales have simply been put on hold. The motor industry will pick up speed, but there is a bumpy road ahead as we drive toward pastures new.'
James Hind, CEO of Carwow, said they had seen a drop in consumers browsing for new cars of 30 per cent, but nothing like the 97 per cent fall in registrations.
'There are still people in-market for a new car,' he said.
'At Carwow in Germany we have seen a strong bounce-back since lockdown was lifted there and dealers were allowed to open. For many consumers, buying a new car is driven by their past finance agreement coming to an end, and with 80 per cent-plus of new cars being bought on finance, most consumers are now locked into a regular buying cycle.'
Karen Hilton, chief commercial officer at heycar, said the figures came as no surprise but lockdown was creating a surge in interest among motorists confined to their homes, with increasing numbers browsing online and researching their next vehicle.
'Recent data shows that we have experienced a 50 per cent increase in website traffic from March to April,' she said.
'With the introduction of our new ''register interest'' button beginning of April, we've also seen an 18 per cent surge in users submitting leads. This indicates that when restrictions are eased we'll be in a good position to drive forward with the ''new normal''.
'Lockdown has also given people time to reflect on their way of life, and we wouldn't be surprised to see them increasingly opting for the safety and solitude of their vehicles post-lockdown rather than crowded buses or trains.'
More: Leaked draft government documents give a hint at what guidance dealers will have to follow to get back to work