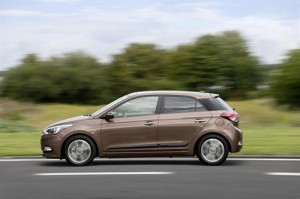 HYUNDAI aims to revolutionise the way dealers look at cars as it embarks on a campaign to redesign its range of vehicles. Forget all the talk of A-segment cars and B-segment cars – Hyundai has no intention of allowing its new models to fit neatly into a single category.
The old i20 was, according to Hyundai's UK chief Tony Whitehorn, aimed at 'couples, empty-nesters and very much a family's second car'. The all-new i20, though, busts that idea out of the water.
It is being marketed as a family car, pure and simple. It's not a B-segment car. Think of it as a B-plus vehicle…

Whitehorn told Car Dealer: 'Traditionally, B-segment cars are for couples, empty-nesters – people who have retired – and as a second car.
'The difference with this i20 is it could cross into being an alternative to a C-segment car, which turns it into
a family car. If you sit in the back of the i20, you'll think "I can get four people into this", and that's unusual for a B-segment car. You wouldn't say a Fiesta is a family car. A friend of mine has a Fiesta and now he has a little kid he's thinking of buying a Focus. Why? Because a Focus is more of a family car. A Fiesta is not a family car.
'The i20 could come into being a family car. That's why the car is very interesting. It's a B-plus car, if you like. We wanted to make it a bit bigger, put a bit more equipment in it, to almost come out of the A segment and straddle the two segments.

'That way, you'll suck people into it who wanted a B-segment car.
'With the i20, we'll do the same with people who wanted a C-segment car. It's an interesting dynamic. A customer doesn't think, "this is a C-segment car".
He doesn't understand any of that. All he thinks is whether he could get his family into it. And yes, he can.'
So if that's Hyundai's thinking, will it straddle all segments, and produce C-plus and D-plus cars? 'It's a lot easier in the A and B segments,' says Whitehorn.
'Once you start trying to do a C-plus, that becomes a bit tricky. I can't see the C segment becoming a lot bigger.
'As for the i20, I think this car will still attract the couples, the empty-nesters and those looking for a second car. But in addition, because it has the capability of doing it, it will pull people in from the other segment.
'We are starting to challenge our industry. Our industry is very traditional and wants to put cars into a little box. Why do we need to do that?'