A SOUTH-east motor group is celebrating 20 years in business.
Originally launched as a single Volkswagen dealership in Gillingham, Kent, the JCB Group has experienced many ups and downs over the years, but through effective management, hard-working staff and a vision for the future has gone from strength to strength, while remaining a privately owned, family-run business.
Managing director Jonathan Bischoff set up the JCB Group while he was working for another dealership. He wrote to Volkswagen, explaining that he was desperate to be given the opportunity to run one of their outlets.

To his delight and surprise, Volkswagen replied, offering to be the guarantor behind the new business venture.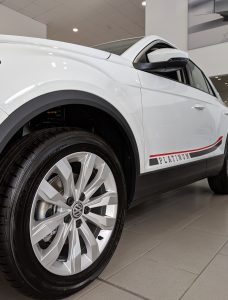 Fast forward to 2019 and Bischoff's team has sold more than 250,000 vehicles. Moreover, the business has grown to include representation for 11 different manufacturer brands, car, van and campervan rental, parts supply, van and campervan conversion plus contract hire and vehicle management.
All of this sees Bischoff's team of more than 500 staff transacting with hundreds of customers and businesses every day.
Reflecting on the past two decades, Bischoff said: 'I've been very much centred on developing a regional dealership group which is customer-focused and financially robust.

'We've seen rapid expansion in the last five years in particular. investing £2 million in showroom improvements. buying out two motor groups. adding 11 new showrooms with additional repair centres to our portfolio and introducing partnerships with automotive brands Mercedes-Benz Vans, Skoda, Kia, Citroen, Suzuki, Mitsubishi and SsangYong.
'Along the way, we've collected many different accolades from manufacturers, business analysts, workplace surveyors and professional bodies for customer service, cementing our reputation as Kent and Sussex's leading automotive retailer.'
As part of the celebrations to mark 20 years, the JCB Group has introduced two exclusive customer service offerings.
The first is the launch of Platinum Special Edition vehicles on key models across all its top brands. These feature top-quality specifications and trim levels, all enhanced with platinum livery to make them look and feel extra-special.
Meanwhile, customers who don't have much spare time to test-drive a vehicle can take advantage of the new JCB concierge service.
As well as offering convenience, the service aims to alleviate any nerves some customers may have when driving in unfamiliar areas by allowing them to stay close to their home or workplace.
Bischoff added: 'Our continued innovation helps make us an industry leader, but without the support of all our customers, partners, staff and friends over the past 20 years, we wouldn't be the business success we are today, and for that, I am very thankful. I look forward to the next 20 years of taking care of customers old and new.'
MORE: Cap HPI analysts brief Bank of England on UK car market
MORE: Revealed: Surprising lack of awareness around new RDE tests
MORE: UK car production down by more than 10 per cent in July