THE NEW Ringways Kia showroom in Leeds has been opened by the brand's UK chief executive Paul Philpott – and it's more than three times bigger than the old one.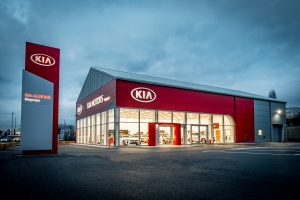 Having moved from the former site in Whitehall Road, the dealership is now in Crow Nest Lane. The previous showroom covered an area of 200 square metres, while the new site, which used to be a coach park, measures 650 square metres.
At the showroom's official opening, Philpott cut the ribbon on the new building, which will sell the full range of Kia models, including the new Stinger sports saloon.

He said: 'It's great to see new dealerships opening around the country, and the new Ringways Kia Leeds site looks spectacular.
'The staff have done an amazing job with settling into their new site and we look forward to hearing more good news from the team.'
Stephen Russell, group managing director of Ringways, added: 'We've made a fantastic new home here at Crow Nest Lane.
'Our dealership can now provide a wider range of Kia models, including the all-new Stinger.

'We're excited to welcome more people in Leeds to our new dealership.'
Pictured at top from left: Ringways group development director Guy Roberts, Stephen Russell, Paul Philpott and Ringways aftersales director Andy O'Donnell
MORE: Leeds Kia dealership set to move to a new home
MORE: BCA Immingham has processed over 200,000 Kia vehicles
MORE: CDX 2018: Armchair Marketing's workshop will make digital advertising simple
On WorkshopMagazine.co.uk: Pagid doubles size of its specialist technical services team for the UK aftermarket