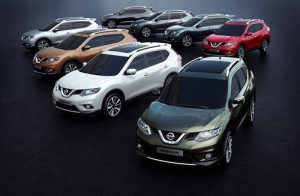 NISSAN is hoping to multiply by seven the number of X-Trails it sells in the UK this year.
The new figure would mean the Japanese manufacturer would shift 10,000 of the compact SUVs in 2014, as opposed to the 1,500 or so it sold during 2013.
The all-new version of the car is now available to order in dealerships with the first deliveries arriving mid-July.

The third version of the car has undergone a major overhaul in terms of its outward appearance, interior design and practicality and the level of technology it offers.
And with a longer wheelbase (increased by 76mm on the outgoing model) and a raft of other improvements, Nissan are naturally hoping they've got a hit on their hands.
Speaking exclusively to Car Dealer, Managing Director James Wright said: 'It's a step change in terms of where our competitors are and we are sure it will do well.'
New X-Trail is arriving at the same time as the heavily refreshed Juke and here too, Wright is upbeat.

'Juke's been an incredible success story,' he told us. 'We sold just shy of 40,000 last year and our expectation is to do more than 40,000 this year.
'It's regularly in the top 10 of all cars sold in the UK. 'It's kind of picked up the baton of Qashqai in terms of what it's delivered for us. Qashqai surprised us initially; Juke surprised us too.'