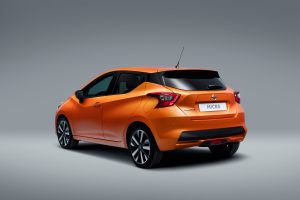 NISSAN Micra Gen5 has just been unveiled at Paris Motor Show, but the brand is already working on bringing a 'hot' version to the UK.
The March – Japan's version of the Micra – already has a sporty Nismo version. When Micra product manager Martin Boutard was asked whether there was a plan to bring this to the UK he told Car Dealer: 'I feel it's pretty likely it's going to happen.'
The new Micra's design is largely based on the Sway Concept, which was unveiled at the Geneva Motor Show earlier this year. Nissan is extremely positive about sales of the new Micra, although it wouldn't confirm exact numbers at this time, Boutard added: 'I think it's going to be a lot more than we're predicting.' The car has had a redesign to make it more competitive in the B-segment. The product team behind Micra Gen5 explained that there was a need to improve interior quality.

Four in six drivers buying Nissans come from different brands, and the team anticipate the majority will be downsizing from more premium cars or moving from another B-segment car, so the Micra needs to be competitive.
MORE: Paris Motor Show 2016 – LIVE UPDATES
MORE: JLR boss: No commission for our sales staff
MORE: Eastern Western opens flagship Nissan dealership

On SuperUnleaded.com: McLaren 570S spotted on the south coast for Transformers 5