HYUNDAI is the latest manufacturer to announce details of a new petrol and diesel scrappage and trade-in scheme.
The programme, which launches on Friday, offers up to £5,000 off the price of a new model and will help to improve air quality across the UK.
Hyundai's scheme targets older and more polluting vehicles with Euro 1-4 emissions standard, and those registered before December 31, 2009.

Regardless of make or model, Hyundai will offer owners the opportunity to scrap or trade in their old car for a new Hyundai, with a range of four-figure incentives available across the line-up.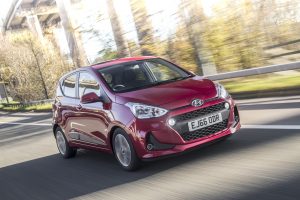 Under the terms of the scheme, the most polluting cars, those with Euro 1-3 emissions standard, will be scrapped, while owners of a Euro 4 model do not have to scrap their car and can trade in their vehicle for any model across the Hyundai range.
The offer is only available for retail customers and the discounts on new Hyundais are in lieu of any other offer. The scheme will run until the end of 2017.
Tony Whitehorn, president and CEO of Hyundai Motor UK, pictured, said: 'Hyundai is committed to improving efficiency and lowering emissions. We currently offer the broadest range of powertrains in the UK.

'We will have introduced 14 alternatively-fuelled models globally by 2020. That line-up will include five hybrid vehicles, four plug-in hybrids, four electric vehicles and one all-new fuel cell car.
'However, right here, right now, there are thousands of older cars on our roads that could be replaced with cleaner – not to mention better equipped and safer – alternatives.
'By giving owners of older cars a substantial financial incentive to scrap or trade in, regardless of make or model, this new scheme will do just that.'
MORE: Ford to introduce UK scrappage scheme aimed at improving air quality
MORE: Tougher rules on new car emissions kick in from Friday
MORE: JLR swimmers complete charity Channel-swim challenge
On SuperUnleaded.com: What we know so far about the BMW i8 roadster