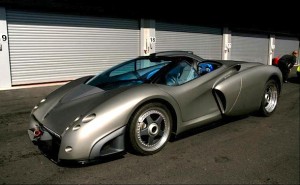 A FRENCH car dealership has started attracting worldwide interest – after it advertised the sale of a rather special one-off Lamborghini.
The ultra-exclusive model – oddly named the Pregunta – which was first unveiled at the 1998 Paris motor show, has gone up for sale at Autodrome Paris sporting a price tag of £1.3 million.
The first model conceived after the Volkswagen Group takeover of Lamborghini, the Pregunta was short lived, with production never making it past the one example.

Based on the Lamborghini Diablo VT, the then flagship of the Italian marque's model range, the Pregunta was also star of a Top Gear-style promo film, in which it is raced against a Dassault Rafale fighter jet at takeoff thrust.
The video was created to highlight the inspiration taken by the car's designers from the aircraft, including the stealthy grey paintjob and the layout and technological features of the interior.
Dated the film may be, it serves to show that Lamborghini has a much longer history in making mad one-offs than many would credit it for. Enjoy below.

Image credit: Autodrome.fr

Have you filled in our Car Dealer Power survey yet? It's a great opportunity to have your say, and you could win one of seven great prizes! Click here to enter.