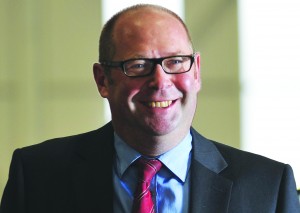 MANHEIM has promoted its chief operating officer, Michael Buxton, to the role of chief executive officer over its operations in the UK.
Buxton, pictured, will continue to report into John Bailey, whose responsibilities at the global automotive services company have been expanded, as he recently became executive vice president of international operations within parent company Cox Automotive.
Bailey said: 'Michael's promotion to chief executive recognises his significant contribution over 20 years in Manheim and I know that our UK operations and customers will greatly benefit under his leadership. I will still be actively involved with Michael in the UK domestic market and look forward to working closely with him as our businesses go from strength to strength.'

Cox Automotive president Sandy Schwartz said: 'I'm delighted that Michael has been appointed CEO. He is a proven and capable leader and his guiding hand will ensure we achieve our UK growth objectives at this very exciting time.'
Manheim UK is part of Cox Automotive, the world's largest provider of automotive services to fleets, motor dealers, vehicle manufacturers and traders across cars, motorcycles, plant and commercial vehicles.
Manheim UK, which employs more than 1,600 people, operates a network of physical and online auctions – including 18 physical auction centres and growing online sales channels; inspection and asset management; transport and logistics; and retail digital marketing solutions.
Sister companies in the UK include classified site Motors.co.uk; trade-to-trade online platform Dealer Auction; dealer stocking plan provider NextGear Capital; and consumer trade-in portal WeWantAnyCar.com