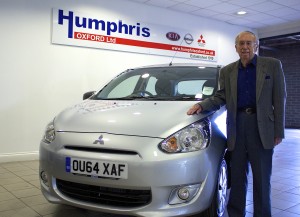 MITSUBISHI Motors celebrates 40 years in the UK this year and one motorist from Oxfordshire has been driving their cars since the very beginning.
Robert Waite picked up his 13th Mitsubishi, a brand new Mirage, from Humphris of Oxford this week.
For the 89-year-old it marks 40 years of motoring with Mitsubishi, having bought his first, a Lancer Colt, in 1974.

Robert, of Lower Road, Chinnor, said: 'I happened to see what must have been one of the first Colts in the country and I liked the look of it. I took it for a drive and I fell in love with it and that's what started it all off.'
After his first vehicle Robert liked it so much he went for the same model two years later. It's a relationship that has stood the test of time.
Robert, a retired works manager for a pharmaceutical company, said: 'I just found the Mitsubishis fitted me perfectly. They are absolutely reliable and I've rarely had a problem. I think I've had a couple of new tyres and one exhaust in all that time and one of those tyres was because I had a nail in it. It's amazing.'
The grandfather-of-two has just traded in his 2006 Space Star with 57,000 miles on the clock for the new Mirage from Humphris of Oxford in Rose Hill.

Asked which has been his favourite over the years, the keen cricket fan said: 'I like them all the same, that's why I keep using them. They are exceptional vehicles, there's no doubt about that. Most people don't believe me when I say I've been driving the same cars for 40 years!'
He added: 'I don't think I will have any problems with this new one, I never have before. I'm looking forward to driving it.'
Jeremy Rebuck, general manager at the dealership, said: 'Robert is a fantastic ambassador for Mitsubishi and the fact that he keeps coming back is testament to the quality of the cars.
'He's delighted with his new car and we're pleased that he's decided to continue his 40-year relationship with Mitsubishi, especially as 2014 marks 40 years since Mitsubishi Motors began operating in the UK.'